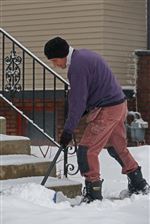 East Toledo resident Edward Hallier clears a walk in South Toledo. Clearing snow from around the house and away from doors and windows can prevent basement flooding, those in the business say.
THE BLADE/KATIE RAUSCH
Enlarge | Buy This Image
Now might be the time to put those old love letters on higher ground.
As temperatures rise and the snow starts to melt, there's a good chance some of that water will wind up in basements and crawlspaces, creating big problems for homeowners.
"If their basements have flooded before ... with this much snow melt and rain, chances are it's going to flood again," said Mike Cousino, owner of Cousino Harris Disaster Kleenup LLC.
The National Weather Service says Toledo has about a foot of snow packed on the ground. With forecasts of significant rain and temperatures in the 50s by late Thursday, things are going to get messy.
"We're going to be dealing with not only the rainfall but the liquid equivalent of what's on the ground, and that has go to somewhere," said Kristen Schepel, a meteorologist at the National Weather Service.
Forecasters are predicting rainfall of a half an inch to three-quarters of an inch on Thursday, with even more possible. In addition to piling on the moisture, Ms. Schepel said rain makes snow melt faster.
That has professionals who do basement waterproofing and cleanup bracing for a raft of calls.
"We're all going to be slammed," said John Wolf, owner of Interior Channel Basement Waterproofing in Toledo.
Mr. Wolf said Tuesday he's been stocking up on sump pumps and other supplies in anticipation of a busy weekend.
"What makes everything even worse is all the ice damming on these houses," he said. "The gutters are full, so it's going to run right off onto a foundation."
There are a few things people can do ahead of the melt, though.
With residents forced to dig out again and again, snow has piled up beside driveways — and more importantly, beside homes.
"We've seen a lot of people have snow up against their home piled up as high as windows. It's a good idea to shovel that away from the house," Mr. Cousino said. "Anything to keep water away."
Making sure snow is moved away from doors and windows is especially important. In addition to getting snow piles away from a home's foundation, experts also say it's a good idea to test sump pumps and make sure the lines running from basement floor drains are clear of tree roots and other blockages.
"That's a major cause of basement trouble, and people don't think about that in the winter time," said Tom Elder of Seagate Roofing and Waterproofing.
Mr. Elder said blocked drains are one of the most common reasons basements flood.
One thing homeowners should not do is try to break ice dams free from their gutters.
"Ice dams happen, and we've seen some people get seriously, permanently hurt just because of a little water coming in from an ice dam," Mr. Cousino said.
David Pratt, sewer and drainage services commissioner for the city of Toledo, said conditions of the city's storm-sewer system have greatly improved in the last few years.
He doesn't anticipate any trouble with the system being able to handle the volume.
The biggest issue right now, Mr. Pratt said, is that workers haven't had time to clear as many storm sewer inlets as they would like.
"As we've requested in the past, if residents know there's a storm-sewer inlet in front of their house, and they have an ability to clear some of the snow and ice away, we appreciate any assistance we can get," he said.
Contact Tyrel Linkhorn at tlinkhorn@theblade.com or 419-724-6134 or on Twitter @BladeAutoWriter.
Guidelines: Please keep your comments smart and civil. Don't attack other readers personally, and keep your language decent. Comments that violate these standards, or our privacy statement or visitor's agreement, are subject to being removed and commenters are subject to being banned. To post comments, you must be a registered user on toledoblade.com. To find out more, please visit the FAQ.