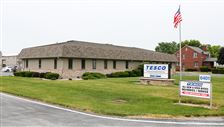 TESCO wanted part of its property rezoned so it could store more buses while they await delivery to customers.
THE BLADE/JEREMY WADSWORTH
Enlarge | Buy This Image
After a two-hour public hearing, Oregon City Council last week approved a zoning-change request opposed by some residents on South Stadium and Pickle roads, but not before getting assurances from Mayor Mike Seferian that the city would do its best to satisfy residents' concerns.
The requested change at 5464 Navarre Ave. gives a C-2 general commercial classification to five acres zoned R-1 for low-density residential.
The property is the southern part of a split-zoned parcel used by TESCO, an Oregon-owned and operated bus dealer. The company wanted the rezoning so it could use this part of its property to park vehicles awaiting delivery to customers.
The Oregon Plan Commission held a public hearing on the request April 14 and recommended 5-0 that council approve it. The zoning change conforms to the 2025 master plan for development, and the C-2 classification already exists in much of the area, but TESCO still will have to go before Oregon'‍s Board of Zoning Appeals to obtain a variance to store its vehicles.
The zoning change appeared to be on its way to uncontroversial approval until council'‍s May 26 meeting, when residents, mostly from South Stadium, said they did not want a view of parked buses. The public hearing was continued to last week to give council more time to study the matter.
In the end, council gave its favorable vote after Mayor Seferian pledged that his administration would work with the city's tree commission to put up plantings to shield the residents'‍ view. The trees could be put in the public right-of-way, on TESCO's property, or both.
The council vote was 7-0. In making their decision, council members were torn between the concerns of the homeowners and the needs of TESCO, considered a good, growing corporate citizen. Council will consider the same rezoning request for two nearby parcels with a different owner on June 23.
Jeff Pappas, TESCO's executive vice president and an Oregon resident, told how the company had grown over the years to be a major bus dealer with more than 70 employees, the majority of whom live in the city. He said TESCO hires Clay High students each year for summer jobs.
Mr. Pappas said the firm had two facilities in Oregon, on Seaman and Navarre roads. The Navarre address is where the company sold used buses and parts. He said customers arrived daily to inspect vehicles, and "we need to expand infrastructure to keep up with demand ... in the short term, we need more storage area for our vehicles."
Opponents of the rezoning acknowledged that TESCO was a good neighbor, but they worried about the effects of the C-2 classification on their properties.
Phil Cervantes, a South Stadium resident, said a used bus lot was no different from a used car lot, and "you cannot put lipstick on a pig." He said C-2 zoning would have "a domino effect" and open a "Pandora'‍s box" that would allow anything to locate on South Stadium.
Contact Carl Ryan at: carlryan@theblade.com or 419-724-6095.
Guidelines: Please keep your comments smart and civil. Don't attack other readers personally, and keep your language decent. Comments that violate these standards, or our privacy statement or visitor's agreement, are subject to being removed and commenters are subject to being banned. To post comments, you must be a registered user on toledoblade.com. To find out more, please visit the FAQ.