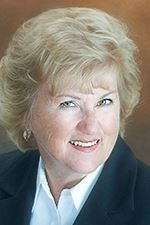 Velliquette
TEMPERANCE — A plan to build high-end residential rental units north of Sterns Road and west of Lewis Avenue moved forward last week when the Bedford Township Board unanimously approved a requested zoning change that gives the property an RM-2 classification for multiple family residential.
The 17.262 acres is commonly known as the Whitman Ford site, after the former car dealership located there.
The developer, Richard Batt, told board members the property would have fewer than 10 single-story units per acre with monthly rents in the range of $1,300.
There would be a main entrance on Sterns and and secondary access on Lewis.
He said most of the tenants would be empty nesters. Mr. Batt explained that Bedford had a shortage of senior housing, and there was a market for this kind of a development in the community. The rezoning comports with the township's master plan, and nobody spoke in opposition to the change during the board's public hearing.
Planning commissions at the township and Monroe County levels both recommended approval, and final authority rested with the township board, whose members thought the project would be good for the community.
At its regular meeting last week, the board also signaled its support for a request from the Monroe Conservation District for $750 to offset its loss of other funding sources.
Connie Velliquette, a conservation board member, explained that the district lost its state and county funding in 2010 and has been operating on reserves and grants, both of which are dwindling.
The Monroe County Board of Commissioners came through with $7,500, but did so with the understanding that the conservation district collect 10 percent of that amount from each of the county's 15 townships.
Ms. Velliquette explained that contrary to common perception, the conservation district is available to assist all landowners, not just farmers, in using best practices to conserve water and soil. She said residents of all the county's townships use the conservation district's services.
"We are educating the citizens of our county," Ms. Velliquette said.
Board members were supportive of the request but took no vote.
Supervisor Greg Stewart said he wanted the township's attorney involved but told Ms. Velliquette, "I don't think you have any problem with commitment."
He asked her if she had looked for other sources of funding. Ms. Velliquette said the process was just starting. Bob Potter, a Bedford farmer and one of the district's two technicians, said the district was looking for available environmental grants.
Contact Carl Ryan at: carlryan@theblade.com or 419-724-6095.
Guidelines: Please keep your comments smart and civil. Don't attack other readers personally, and keep your language decent. Comments that violate these standards, or our privacy statement or visitor's agreement, are subject to being removed and commenters are subject to being banned. To post comments, you must be a registered user on toledoblade.com. To find out more, please visit the FAQ.