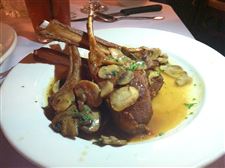 Lamb chops from Angelo's Northwood Villa in Erie.
ERIE — Angelo's Northwood Villa has not updated its decor, probably since its speakeasy years, but that is half of its charm. Tucked away in Erie, it has several elegant eating rooms and honors the old reliables of supper clubs, which were once popular from the 1930s to the 1970s: seafood, steak, and glistening pastas.
Chocolate Beyond from Angelo's Northwood Villa in Erie, MI.
Opt for the house-made Tiramisu to polish off your fine dinner. It also pays homage to some delicacies, frog legs and escargot. It has a convivial atmosphere on Friday and Saturday nights with live music. Be sure to check out the hidden cigar room.
Located at 6630 S. Dixie Hwy., Angelo's is more than a restaurant institution. It is a notion that fine dining does not necessarily equate to small portions of froufrou plates that intimidate. Adhering to its roots is its appeal.
The elegant restaurant — complete with white table clothes, mirrored walls, and crystal chandeliers has a tradition of feeding its regulars the old reliables: glistening pastas, sweet fish, and manly portions of steaks. With a children's menu, it is kid friendly and we saw families dining on both visits.
MENU: Angelo's Northwood Villa
RELATED CONTENT: Recently reviewed restaurants
According to our accommodating waitress, Melissa, it once housed a speakeasy and a large golden oval-shaped installation in the ceiling covers a hole where armed men would perch atop ensuring there was no funny business from the patrons playing the craps tables below.
Angelo's Northwood Villa
★ ★ ★ ★ ★
Address: 6630 S. Dixie Highway, Erie, Mich.
Phone: 734-848-5511
Category: Upscale
Menu: Mediterranean, American
Hours: 11 a.m. to 9 p.m. Monday through Thursday, 11 a.m. to Friday, 4 p.m. to 10 p.m. Saturday, 4 p.m. to 8 p.m. Sunday.
Wheelchair access: Yes
Average price: $$$
Credit cards: MC, V, D, AE
Web site: Facebook page
Ratings:
★ ★ ★ ★ ★ Outstanding; ★ ★ ★ ★ Very Good;
★ ★ ★ Good; ★ ★ Fair; ★ Poor
Star ratings are based on comparisons of similar restaurants. The Blade pays for critics' meals.
Thanks to the original vintage decor, we were able to take a walk into the past. When I entered the hidden cigar room, the searching glances from the clique of smoking patrons just made me want to join the group by asking: "Do you have a light?"
We were seated in the low-lit main dining room on a Friday night, and were immediately greeted with an amuse-bouche, warm squares of onion flavored cheese bread. The bartender served my friend a martini ($9.25), cold and dirty, and my Chianti had a steely undertone. It was quickly corrected with a juicy pinot noir ($7.50).
The table was wowed with the restaurant's pyrotechnic dish, the Flaming Cheese ($7.25). The fresh Bruschetta ($5.95) also was a pleaser with a diced-tomato topping mixed with briny capers, onions, olive oil, and a dusting of Parmesan cheese. The Escargot Bourguignonne ($7.50), garlicky snails, was served in a rich wine sauce. I commend the chef on the French onion soup ($4.95). It was served with crusty-edged layer of provolone cheese, protecting the beef stock soup. The chef also paid extra attention to the Caesar salad ($3.50), garnishing it with strips of anchovies.
For the main dish, all three of us opted for the plentiful meat dishes: a luscious pink roast prime rib ($26.95), a 9-ounce Filet Mignon ($28.95) that surrendered at the sight of my knife, and Vitello Modenese ($23.95), thinly sliced milk-fed veal layered with cheese and prosciutto, the saltiness balanced with light brown sauce.
We finished dinner with cake: turtle cheesecake, chocolate mousse, and tiramisu (each $5.25). Only the Tiramisu was made in-house, and it showed. We fought over it, and reveled in the cinnamon-laced mascarpone cream that buttressed the coffee soaked ladyfingers.
In a test, at the waitress' suggestion, I ordered the Penne Costa Azzurra ($15.95). It was one of the finest pasta dishes I've had in the area, as it was gently al dente, tossed in a cream basil pesto sauce.
Returning on a Sunday, the dining room was a little brighter and we missed the Friday night atmosphere. Nevertheless, the meal was unforgettable. We started with an Italian favorite Calamari Fritti ($7.95). I thought the calamari was slightly on the chewy side. The sweet simple red sauce that accompanied it and the Fresh Breaded Mushrooms ($6.75), was spectacular.
Breaded mushrooms from Angelo's Northwood Villa in Erie, MI.
A friend who was not a fan of mushrooms, picked at the mushroom laced light sauce that graced the 24 ounce porterhouse steak ($29.95), but personal likes aside, it was a chop fit for a king. The meat of the succulent, sweet lobster tail (market price/$48) was a foretaste to how Angelo's prepares its seafood dishes. Another friend delighted in the lamb chops (market price/$32).
In another test, I ordered the Agnolotti Piemontesi ($17.95). The specialty pasta consists of soft, pillowy dough, filled with a savory veal center. The pasta glistened in a cream sauce dotted with mushrooms and spiked with salty prosciutto. It was heaven.
When we first dined at this legendary favorite Melissa warned me: Once you eat here, you'll become addicted. She was right.
Contact Bill of Fare at fare@theblade.com.
Guidelines: Please keep your comments smart and civil. Don't attack other readers personally, and keep your language decent. Comments that violate these standards, or our privacy statement or visitor's agreement, are subject to being removed and commenters are subject to being banned. To post comments, you must be a registered user on toledoblade.com. To find out more, please visit the FAQ.