41.59892
-83.66483
Garden Ridge pays $1.6M to occupy Reynolds Road space.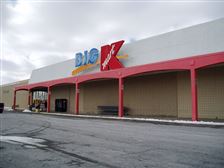 The former Kmart at 2244 S. Reynolds Rd. in South Toledo has been sold to a Texas home decor company.
A home decor retailer from suburban Dallas has signed a deal to occupy the former Kmart store on Reynolds Road.
Garden Ridge, a privately held chain in Plano, Texas, paid $1.6 million for the former Kmart at 2244 S. Reynolds Rd. The deal closed Monday.
The retailer plans to remodel and re-occupy the 111,716-square foot building. Kmart closed in 2012, but the building has been used by a temporary tenant operating a neighborhood thrift store.
Matt Cherry, a Toledo City Council member whose district includes the former Kmart store, said the decision by Garden Ridge could help jump-start a rebirth of the Reynolds Road corridor, which has struggled since the closing of the Southwyck Shopping Center.
"This is a great start. I've been told the retailer plans to invest $3.5 million in that store and will create over 20 jobs. And you'll also have the construction jobs, so I don't see how it can't be [a good thing]," Mr. Cherry said.
The councilman said interest by Garden Ridge has been ongoing for several months. Garden Ridge officials did not respond to inquiries about the deal.
A private firm in Florida, Lany Toledo LLC, owned the property, which had been marketed over the last year by three agents of Toledo's Reichle Klein Group, Duke Wheeler, Kurt Pollex, and Pete Shawaker.
Mr. Pollex said the Reynolds Road corridor had been a tough sell with the loss of Southwyck. But little by little, the area is improving, he said.
"It's all about baby steps. This deal won't be the catalyst for [redeveloping] Southwyck," Mr. Pollex said.
But Mr. Pollex said the decision by Garden Ridge is the latest in a number of positive developments for the Reynolds Road corridor.
Kroger's decision to build a store just south of the turnpike was a highly positive move for the area. To the north the corridor is solidly anchored by Burlington Coat Factory in the Airport Square Shopping Center.
And in between, he said, a new Dollar Tree store is occupying a former tavern. Genesis Village, a senior living community, has revived the former Holiday Inn at Reynolds and Heatherdowns Boulevard, and the closed and decrepit Clarion Hotel is on track to be demolished.
Garden Ridge, which was founded in 1979, operates 62 stores in 20 states, including three stores in Ohio and two in Michigan.
It offers an assortment of home decor products, including furniture, patio cushions, pottery, rugs, decorative pillows, mirrors, wall decor, lamps, bedding, and housewares.
The company is owned by a private investment group, AEA Investors, which purchased Garden Ridge in 2011. Under its previous owners,
Three Cities Research, the company ran into financial trouble and declared Chapter 11 bankruptcy in 2004.
It re-emerged from bankruptcy in 2005 after restructuring and closing 10 stores.
Contact Jon Chavez at: jchavez@theblade.com or 419-724-6128.
Guidelines: Please keep your comments smart and civil. Don't attack other readers personally, and keep your language decent. Comments that violate these standards, or our privacy statement or visitor's agreement, are subject to being removed and commenters are subject to being banned. To post comments, you must be a registered user on toledoblade.com. To find out more, please visit the FAQ.