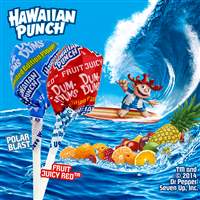 A recent ad displays the two new limited edition flavors of Dum Dums Hawaiian Punch lollipops. The Hawaiian Punch flavors are Fruit Juicy Red and Polar Blast.
BRYAN — Spangler Candy Co. has delivered a sucker punch to its customers this summer.
The Bryan candy maker has teamed up with Dr. Pepper/​Seven Up Inc. to create two limited edition Dum Dums lollipop flavors with help from its partner's Hawaiian Punch brand.
"This is our first time working with Hawaiian Punch. We connected with them at a candy expo in Chicago and then met with them about a year ago," said Evan Brock, director of marketing for Spangler Candy.
Spangler is a major manufacturer of seasonal candy canes, but more widely known for its Dum Dums lollipops and Circus Peanuts marshmallow candies
"We agreed to a deal to do a limited edition Dum Dums flavor with them for this summer. I think we both felt that our consumers were very similar in age and demographics, and we also thought it was just a great combination of famous candy and an iconic juice brand," Mr. Brock said.
Earlier this month Spangler released two Hawaiian Punch-flavored lollipops — Fruit Juicy Red and Polar Blast — that are included in specially marked bags of Dum Dums.
Spangler will produce about 30 million Hawaiian Punch lollipops to be distributed nationally. Production will cease at the end of the summer, Mr. Brock said, per the limited agreement with Dr. Pepper/​Seven Up.
But if the product is successful, it could be brought back.
"We're always listening to our consumers, and feedback is really positive on the new flavors. So even though it's a limited edition there's always a possibility these flavor could come back," Mr. Brock said. "I think it's going to be really successful."
Spangler traditionally fills its Dum Dums bags with 16 flavors, but to make room on the production line for the Hawaiian Punch lollipops, two of the 16 — Fruit Punch and Cotton Candy — "went on vacation," Mr. Brock said. The two flavors will return in the fall, he added.
Spangler changes its Dum Dums lineup from time to time. It added flavors, Peach Mango and Raspberry Lemonade, in 2012 after a vote by customers.
Recently, though, the candy company has been expanding its Dum Dums offerings. In November, it created a new line of holiday Dum Dums with eight new flavors to complement the winter season.
The new Hawaiian Punch flavors represent an expansion, with Spangler combining its signature candy with a previously branded flavor licensed by another company.
Spangler has done licensed flavors with its candy canes, but never with Dum Dums, the company said.
Contact Jon Chavez at: jchavez@theblade.com or 419-724-6128.
Guidelines: Please keep your comments smart and civil. Don't attack other readers personally, and keep your language decent. Comments that violate these standards, or our privacy statement or visitor's agreement, are subject to being removed and commenters are subject to being banned. To post comments, you must be a registered user on toledoblade.com. To find out more, please visit the FAQ.