A gaping hole is about to open in the Westgate-Secor Road retail corridor with the announcement that the Elder-Beerman department store will close by early summer.
Bon-Ton Stores Inc., the Milwaukee-based parent firm of Dayton-based Elder-Beerman, said Tuesday that its attempt to exit bankruptcy intact had failed and the department store chain would be forced to close all 247 of its stores within the next 10 to 12 weeks.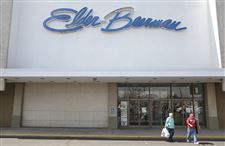 Tom and Terry Otley of Bowling Green leave the Elder-Beerman store at Westgate after a shopping trip on Wednesday in Toledo.
THE BLADE/JEREMY WADSWORTH
Enlarge | Buy This Image
The decision means the last remaining Elder-Beerman store in Toledo, a 154,000-square-foot, two-story building at 3301 Secor Rd., will go dark by July. Elder-Beerman has been a fixture in the Toledo retailing scene since 1985 when it acquired three area stores from Macy's.
"I knew it was going to happen at some point. I just didn't know when it was going to happen," said Pete Shawaker, a commercial Realtor and retail specialist with the Reichle Klein Group of Toledo.
In the larger picture, the closing means another big box retailer will vacate with uncertainty over how the hole it leaves will be filled. Last September, Sears closed its department store located immediately west of Elder-Beerman. And directly across Secor Road, a former Food Town supermarket and F&M Distributors store have been vacant since the mid-2000s.
Not far away up, The Andersons on Talmadge Road at Monroe Street has been empty for nearly a year, and expectations are the Toys R Us on Monroe will close soon as the company liquidates its stores.
The Elder-Beerman store, built in 1961 on an eight-acre site, is owned by the Niki Group, a San Diego real estate investment firm that bought the property and building for $4.4 million in December, 2016.
Niki Group property manager David Trakman did not respond to inquiries about the site, but commercial real estate experts agreed that the building most likely will need to be demolished.
"It's definitely a redevelopment site. Those kind of buildings are obsolete," said Joe Belinske, a commercial real estate agent with Reichle Klein who negotiated a sale of the Elder-Beerman building in 2013.
"I think it's going to have to be torn down," agreed Sam Zyndorf, a commercial real estate agent and retail specialist with Signature Associates. "What I've always been told is it may have an asbestos problem. That's probably just because of the age, but I don't see anyone taking that building," he said.
"But long term, it could make a nice development. And I don't see it being entirely retail. There's just not enough demand for that much retail that would be needed to fill that space," Mr. Zyndorf said.
Mr. Shawaker agrees that the amount of retail in Toledo is much larger than the demand.
"I think we have more supply than demand now and that is evident in that The Andersons site has been vacant for almost a year now," he said.
"With small [space] users, there's a lot of them. But that's not enough to take down that kind of square footage space," Mr. Shawaker said.
The key to redevelopment of both the Elder-Beerman and Sears stores may lie not in the hands of the owners, but rather another developer who helped trigger the rebirth of the Westgate area 10 years ago.
"If you look closely at who controls all the property around Elder-Beerman and Sears, Liz Holland does," said Bill Burkett, acting director of the city of Toledo's Department of Economic & Business Development. "So I'm just going to wait to see what Liz does."
Ms. Holland, CEO of Chicago-based Abbell Associates, owners of the Westgate Village Shopping Center, and the developer who brought Costco to West Toledo, controls 15.2 acres of land in and around the Elder-Beerman and Sears stores.
Mr. Belinske said five years ago he tried unsuccessfully to gather the owners of those three properties to suggest a joint redevelopment of that area north of Central Avenue. He still believes redeveloping the whole 23 acres at once is the best option.
"If you do all the parcels at once it might be a mixed-use development. It can't be just Elder-Beerman. So you might have multifamily units in the back or you might get another hotel, and then retail along Secor," he said.
Ms. Holland said she already had been in contact with Sears officials about opportunities regarding its now-closed department store, which the retailer still owns.
She added that she is acquainted with officials of the Niki Group, and expects to discuss with them potential for redevelopment of the entire 23-acre site.
"Where people see closures, we see opportunity. We always see the opportunities," she said.
"We know the owners [of Elder-Beerman] and have had conversations with them. They're good people," Ms. Holland said. A redevelopment of both Sears and Elder-Beerman "has always been the plan. And I think all options are open right now," she said.
Ms. Holland added that to her, the site would not have to be all retail. "It could be many things," she said.
In Delaware, where Bon-Ton is going through its bankruptcy hearing, court documents confirmed that a joint venture made up of liquidators Great American Group LLC and Tiger Capital Group LLC, as well as those Bon-Ton second lien noteholders that had called for the company to liquidate immediately after the retailer filed for bankruptcy, were the winning bidders in an auction held to gain control of the company's assets.
Documents indicate that the joint venture will have until Aug. 31 to complete going-out-of-business sales and close all of the company's stores nationwide. Bon-Ton operates stores under its own name, and also the names Elder-Beerman, Bergner's, the Boston Store, Carson's, Herberger's, and Younkers.
Contact Blade Business Writer Jon Chavez at jchavez@theblade.com or 419-724-6128.
Guidelines: Please keep your comments smart and civil. Don't attack other readers personally, and keep your language decent. Comments that violate these standards, or our privacy statement or visitor's agreement, are subject to being removed and commenters are subject to being banned. To post comments, you must be a registered user on toledoblade.com. To find out more, please visit the FAQ.