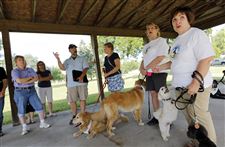 Tina Yoppolo, right, president of Toledo Unleashed, and Sue Joseph, left, treasurer of the group, speak to neighborhood residents about the city's dog park.
THE BLADE
Enlarge | Buy This Image
Canines of the Toledo area will soon be romping freely, safely, and legally off-leash when a local nonprofit opens a dog park in late September.
Toledo Unleashed has been working since 2009 to get a dog park in the city. In December, the group signed a five-year lease with the city for the former South Toledo YMCA property at Woodsdale Park off the Anthony Wayne Trail but had difficulty raising funds for the project.
After a Blade feature ran in early May, everything suddenly kicked into high gear, organizers said.
"It's amazing, absolutely amazing," Tina Yoppolo, president of Toledo Unleashed, said. "It happened so fast."
Work has begun on transforming the 4.4-acre site into the Glass City Dog Park. Steve Serchuck, an animal advocate and commercial real-estate agent with Signature Associates in Toledo, stepped in after the article in May and coordinated a fund-raising blitz resulting in $87,500 in donations so far from businesses and individuals.
"It's about quality of life for our community," Mr. Serchuck said. "And it's an important economic development asset."
Toledo Unleashed is still accepting donations toward the construction of the Glass City Dog Park. For $500, donors may sponsor benches or pet-waste stations. Naming rights to the two open-air shelters are also available.
Major financial contributors so far are:
■ Steve Serchuck
■ Block Communications Inc.
■ Lucas County
■ Toledo Animal Shelter
■ Sue Joseph
■ Dr. Bob Esplin
■ Yark Subaru
■ Toledo Veterinary Medical Association
Major in-kind contributors so far are:
■ Sheet Metal Union 33
■ Cement Masons Local 886
■ Plumbers & Pipe Fitters Local 50
■ Laborers Local 500
■ Shelly Co.
■ Kuhlman Corp.
■ Associated General Contractors of Northwest Ohio
■ City of Toledo
■ Jennite Co.
To donate: 419-460-7070.
A number of businesses and labor unions have agreed to provide in-kind donations of materials and labor. Mr. Serchuck said several more are considering "significant contributions" that may be finalized over the next few weeks.
Toledo Unleashed had set a fund-raising goal of $75,000. With donations exceeding that goal and others still coming, the Glass City Dog Park will become "another crown jewel along the Anthony Wayne Trail," Mr. Serchuck said.
"It's more than what we had ever hoped to do," Ms. Yoppolo said. "It's been an amazing experience."
The membership-based park will have three fenced areas. One will be for dogs 25 pounds and smaller. The remaining two will be for larger canines, but the group will swap which section is open from time to time, allowing the grass to recover from the wear and tear of many paws.
The section that isn't being used by members can be used for dog-related community events, and will be available to the Lucas County Canine Care & Control's adoptable dogs and to police K-9s.
A second open-air shelter will be added to the site along with 12 benches, three drinking fountains that will serve people and dogs, eight pet-waste stations, 3-foot-wide gravel walking paths on the inside perimeter of each fenced section, and shade trees. The 6-foot black vinyl fence will have an electronically secured entrance with a double gate.
"We've worked really hard on making sure this is going to be one of the top dog parks," Ms. Yoppolo said.
The total cost is projected to be about $141,000, including the value of in-kind donations. Mr. Serchuck said fencing alone is about half the budget.
The park will be open daily from dawn to dusk to residents of Lucas, Wood, and Monroe counties for dogs 6 months and older. Owners will have to show proof that their dogs are properly licensed, spayed or neutered, and vaccinated to receive a swipe card for access to the dog park.
Membership fees and donations will be used to pay for the estimated $25,000 annual maintenance costs. Annual memberships will be $40 for two dogs, with additional dogs being $10 each. A special "charter membership" will be offered from when the park opens in late September to Feb. 13, 2015, for $10 for two dogs. Memberships will begin each year on Valentine's Day because the group believes "nobody loves you like your dog."
Block Communications Inc., parent company of The Blade, is one of the major donors for the park.
"This is a way to make Toledo a better place to live" for humans and canines, BCI President Chip Carstensen said. "It's a great cause for the city."
Matt Cherry, a Toledo councilman and Toledo Unleashed board member, said the city has been very supportive of the nonprofit's efforts.
"This has been an idea of citizens in the city for a long time, but it just couldn't get off the ground until now," he said. "With the city budget being tight, it wasn't going to happen from that standpoint."
Mr. Serchuck expects the park will be well used right away. Records at the Lucas County Auditor's Office show about 5,500 of the approximately 62,000 licensed dogs in the county live within a 7-minute drive of the park.
"I'd be surprised if we don't get at least 1,000 members in the initial season," he said.
Toledo Unleashed will hold what it is calling a "ground-barking ceremony" at 10 a.m. Aug. 16 at the site. Membership applications will be available at the event and online at ToledoUnleashed.org beginning that day.
Contact Alexandra Mester: amester@theblade.com, 419-724-6066, or on Twitter @AlexMesterBlade.
Guidelines: Please keep your comments smart and civil. Don't attack other readers personally, and keep your language decent. Comments that violate these standards, or our privacy statement or visitor's agreement, are subject to being removed and commenters are subject to being banned. To post comments, you must be a registered user on toledoblade.com. To find out more, please visit the FAQ.