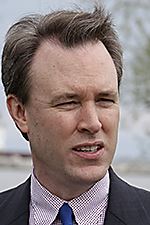 FitzGerald
COLUMBUS — The newly anointed Democratic nominee for Ohio governor Friday called for a moratorium on enforcement of Gov. John Kasich's third-grade reading guarantee and urged investment in universal access to early childhood education.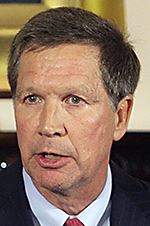 Kasich
Speaking before the Ohio Education Association for whom the 2011 fight over collective bargaining rights is still fresh, the Cuyahoga County chief executive accused the Republican governor of setting the stage for failure of students in traditional public schools and blaming their teachers for that failure.
Mr. FitzGerald engaged in his own math lesson as he challenged the Kasich administration's contention that it has put more money into K-12 schools.
"If you take $2 billion out, and you put $1.5 billion in, I think that's a net cut of half a billion dollars," he said. "And that doesn't count all the wasted money on all the consultants and all the charter schools that are some of the worst-performing schools in this state. We are not investing the way we need to."
The third-grade reading guarantee requires students to be proficient in reading before being promoted to the fourth grade. Its mention brought groans from some members of the teachers' union in the hall. Mr. FitzGerald said students and teachers are overburdened with statewide tests. This means a well-rounded education including art, music, foreign languages, and other subjects gets put on the back burner.
After the speech, he said the controversial Common Core — the general standards for what K-12 students are expected to know in certain subjects at specific grade levels— may or may not fit into the lesson plan that he outlined Friday.
"My biggest concern with it right now is the way it's been implemented," he said. "If you talk to a lot of teachers here, they'll tell you that they're not necessarily opposed philosophically to the principles of Common Core, but the way it's been rolled out by the state has been basically in the same manner as an unfunded mandate, the same thing that people will tell you about a third-grade reading guarantee ...
"If you roll it out without the resources and without the planning, then you're going to basically fall into this trap of high-stakes testing without providing the resources that you need for people to actually succeed," Mr. FitzGerald said.
He called for at least a one-year moratorium on enforcing the third-grade reading guarantee.
"Ed FitzGerald talks a big game on education, and again today he's proven that he's all talk and no walk," Ohio Republican Party spokesman Chris Schrimp said. "Instead of presenting ideas of his own, he spewed nothing but empty political rhetoric. His flagship education program as county executive spends $500,000 of a $2 million program on bureaucracy and overhead.
"Meanwhile, John Kasich is building an environment where students can actually find a job once they graduate," he said. "He has increased state aid for school funding by $1.3 billion over 2010 levels. He worked with leaders in Ed's backyard to advance the Cleveland Schools Plan, and has championed the third-grade reading guarantee to help our kids succeed, an effort that Ed FitzGerald apparently believes is a 'disaster.' "
When questioned about K-12 funding under Mr. Kasich, Mr. FitzGerald said he disputed the governor's claim that his administration didn't cut state funding.
The bulk of the cuts under Mr. Kasich's first two-year budget in 2011 were largely tied to the expiration of temporary federal stimulus dollars. The effect on schools' bottom lines was exacerbated by the state's decision to simultaneously accelerate the phase-out of an unpopular business tax that helped to fund schools.
The state increased funding to schools in the current two-year budget but not enough to offset the prior year's losses.
Contact Jim Provance at: jprovance@theblade.com or 614-221-0496.
Guidelines: Please keep your comments smart and civil. Don't attack other readers personally, and keep your language decent. Comments that violate these standards, or our privacy statement or visitor's agreement, are subject to being removed and commenters are subject to being banned. To post comments, you must be a registered user on toledoblade.com. To find out more, please visit the FAQ.