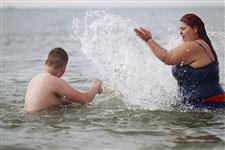 Bobby Moser turns his head as Cearra Garner splashes him at Maumee Bay State Park on Thursday. Lake Erie is the warmest of the Great Lakes, partly because it is the shallowest and most southerly.
THE BLADE/ISAAC HALE
Enlarge | Buy This Image
Going, going, gone...
People usually don't make such a big deal about melting ice.
But this last winter was either an unusually cold and snowy one for the Great Lakes region or a throwback to winters past, depending on your point of view in this era of climate change.
Remember those friends of yours groaning on Facebook just a few weeks ago how they thought the Great Lakes would not be ice-free until August?
Well, here'‍s the big announcement for all of the office betting pools out there: June 6 was the official date that the Great Lakes region bid adieu to the winter's last remaining ice cover.
That's the word from one of the true deans of Great Lakes ice cover, George Leshkevich, a physical scientist with the National Oceanic and Atmospheric Administration's Great Lakes Environmental Research Laboratory in Ann Arbor.
Mr. Leshkevich has been tracking Great Lakes ice for decades and spent days during a winter storm examining it up-close aboard a Coast Guard cutter in Michigan'‍s Upper Peninsula while many of you were snug in your down comforters or warming your feet next to your fireplace.
Although people are just now realizing the ice cover is gone, the last chunks became dislodged from the Marquette-area shoreline and floated out into the open water of Lake Superior on June 6, where they promptly melted even though Lake Superior's water temperature was still less than 40 degrees Thursday — a cold 39.4 degrees, to be more precise.
In 40 years of record-keeping, there's no evidence of Great Lakes ice cover lasting until June.
In 1979, ice lasted into late May. In 1996 and 2003, it lasted until May 29.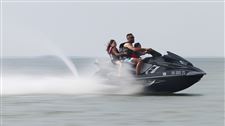 People ride a watercraft on Thursday at Maumee Bay State Park in Oregon. The water was well into the 60s. Great Lakes Ontario, Michigan, and Huron remained in the low to mid 50s.
THE BLADE/ISAAC HALE
Enlarge | Buy This Image
Some people claim it lasted until June 1 one year, but there'‍s no evidence to support that, Mr. Leshkevich said.
"This year set a record in our 40 years of records. We haven't seen it last as far as June 6 before," he said.
Certainly a lot of ice needed to melt.
On March 6, 92.19 percent of the Great Lakes was covered by ice.
During that 40-year time-frame of record-keeping, that'‍s second only to Feb. 19, 1979, when 94.76 percent of the lake surfaces were frozen over, according to NOAA records.
Depending on how hot this summer gets, there could be lingering effects from that melted ice, both positive and negative.
First, the bad news: Hold off on swimming plans for now, unless you just want to dip your toes in the water or splash along the shoreline.
Lake Superior's always cold because it's so deep and northerly. But Thursday'‍s water temperatures for three other lakes remained in the low 50s, from Lake Michigan's 52.06 degrees to Lake Huron'‍s 53.87 degrees to Lake Ontario's 54.40 degrees.
Only Lake Erie — the warmest lake, in large part because it is the shallowest and most southerly — was well in the 60s, with an average water temperature of 64.86 degrees.
The lake'‍s western basin in the Monroe-Toledo-Sandusky area is almost always the warmest, because it is much more shallow than the central and eastern basins near Cleveland and Erie, Pa., respectively.
Spokesmen for the Ohio Department of Natural Resources could not be reached for comment late Thursday about how the warmer western basin might attract more swimmers at state-owned facilities such as Maumee Bay State Park this summer. But at least a few hardy souls were swimming in Lake Erie at the park on Thursday.
Water temperatures rise quickly on sunny days as solar rays penetrate the water, Mr. Leshkevich said.
But don't be in a rush to get the water warm.
Jeff Masters, director of meteorology for Weather Underground — an online Weather Channel product — said cooler air near the surface helps keep the atmosphere stable, thus reducing the odds for violent weather.
"Instability is the difference between surface and upper atmosphere," he said.
The longer water temperatures stay cool, the less the lakes will evaporate this fall during the time of year when evaporation becomes greatest, Mr. Leshkevich said.
The U.S. Army Corps of Engineers is predicting better lake levels for this summer because of the winter'‍s heavy snow. Keeping evaporation in check this fall and winter could keep lake levels strong for 2015.
Until recently, the Great Lakes region had been mired in an era of low-water levels, which had affected boating, fishing, and the costs of shipping cargo.
While it's hard for officials to predict too far ahead, Mr. Masters warned against thinking that this last winter — and its massive ice cover — will be repeated.
He said there are numerous signs of global climate change, not the least of which was the unusually warm winter for California and the Pacific Northwest. Other experts have pointed to unusual warmth in Europe, Australia, and South America and how 2013, globally, was one of the warmest years on record.
"Yes, absolutely, it'‍s an anomaly," Mr. Masters said of the Great Lakes ice cover and the region'‍s wicked winter weather.
He said there is evidence that climate change is causing regional extremes because of how the jet stream is being held in place.
Meteorologists are predicting an El Nino weather pattern will make next winter more mild for the Great Lakes, Mr. Masters said.
"I would be very surprised if next winter is as rough as this winter," he said.
Contact Tom Henry at: thenry@theblade.com or 419-724-6079.
Guidelines: Please keep your comments smart and civil. Don't attack other readers personally, and keep your language decent. Comments that violate these standards, or our privacy statement or visitor's agreement, are subject to being removed and commenters are subject to being banned. To post comments, you must be a registered user on toledoblade.com. To find out more, please visit the FAQ.