Ohio ranks 24th among states in overall child well-being, up two spots from last year's 26th-place ranking, according to the Annie E. Casey Foundation's 2017 Kids Count Data Book.
The report, which was released Tuesday, evaluates states on child well-being according to their performance in four general categories: economic well-being, education, health and family and community. The data are collected by the Children's Defense Fund and aggregated by the Annie E. Casey Foundation.
"[Ohio's] overall results seem to be trending well," said Ashon McKenzie, policy director at the Ohio branch of the Children's Defense Fund. "We also recognize, though, that there are still quite a few areas of concern, especially on the economic front."
Despite the state's slight improvement on its 2016 overall rank, a look at Ohio's performance over the past five years suggests that it has gained little to no ground on other states since 2013. Each year during that period, Ohio has ranked between 23rd and 26th overall, following no clear positive or negative trend.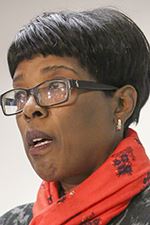 Reese
THE BLADE
Enlarge | Buy This Image
Robin Reese, the executive director of Lucas County Children Services, said she is concerned about child well-being in Ohio. Still, she added, it is important to recognize the report's limitations when assessing its results.
"While this is helpful information as we develop policies and practices, there are a number of local issues that this report doesn't account for, particularly as they relate to the opiate epidemic," Mrs. Reese said. "A report like this can't capture the ground-level issues we are dealing with right now."
The Ohio Department of Job and Family Services did not return multiple requests for comment.
In the past year, Ohio has seen only modest change in three of the report's four categories. The state rose from 25th to 22nd in the economic well-being rankings and fell from 30th to 31st in the family and community rankings.
It dropped from 19th to 23rd in the health rankings due in part to a 3 percent increase in the rate of child and teen deaths.
In the education category, however, the state fell sharply in the rankings. Since last year, Ohio sank from 17th to 27th, a decline driven largely by a 4 percent increase in the number of high school students not graduating on time.
Jim Gault, Toledo Public Schools' chief academic officer, voiced concern about the state's poor performance in the education category but stressed that Toledo has been working to increase access to preschool, improve reading proficiency at elementary schools, and boost its graduation rate. Still, Mr. Gault said he could not speculate as to whether Toledo would fair any better in the county-level education rankings, set for release later this year, than Ohio did in the state rankings.
The Ohio Department of Education declined to comment on the 2017 Data Book.
Mr. McKenzie hopes that legislators in Columbus will keep in mind the report's findings — especially Ohio's struggles with education — as they finalize the state budget.
"There have been calls from some of our partner organizations for funding for early childhood education," he said. "This is something we're supportive of and want to see our state move forward in."
Michigan, meanwhile, ranked 32nd overall, down one spot from its 2016 ranking.
Like Ohio, Michigan has been stagnant in the rankings over the past five years, always falling between 31st and 33rd.
Contact Jacob Stern at: jstern@theblade.com or 419-724-6050.
Guidelines: Please keep your comments smart and civil. Don't attack other readers personally, and keep your language decent. Comments that violate these standards, or our privacy statement or visitor's agreement, are subject to being removed and commenters are subject to being banned. To post comments, you must be a registered user on toledoblade.com. To find out more, please visit the FAQ.