COLUMBUS, Ohio — The chief of staff for Democrats in the Ohio Senate has resigned after facing allegations of "inappropriate conduct" toward other employees.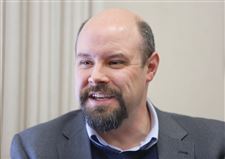 Michael Premo
THE BLADE
Enlarge | Buy This Image
Michael Premo resigned Monday from the role he held since 2015.
The Senate minority leader, Democratic Sen. Kenny Yuko, says he asked for Premo's resignation after finding that concerns raised recently about Premo's behavior were credible. In a statement, Yuko says he won't share details of the allegations to respect the privacy of people who raised those concerns.
Cleveland.com reports that Premo didn't return a call seeking comment Monday. The Twitter account where he was known to be outspoken appears to have been suspended or deleted.
A spokesman for the Senate president tells The Cincinnati Enquirer that no complaint has been filed about concerns over Premo's behavior.
Guidelines: Please keep your comments smart and civil. Don't attack other readers personally, and keep your language decent. Comments that violate these standards, or our privacy statement or visitor's agreement, are subject to being removed and commenters are subject to being banned. To post comments, you must be a registered user on toledoblade.com. To find out more, please visit the FAQ.