In November, when Munhall, Pa., teenager Gabby Barrett auditioned for American Idol, judge Luke Bryan told her, "I think you've got a chance to really be big in this thing."
She was indeed.
Barrett, 18, didn't win, but she came close. The winner was Maddie Poppe of Clarksville, Iowa. Still in the running were Caleb Lee Hutchinson of Dallas, Ga., Poppe, and Barrett.
Over the course of 2½ months, on shows both taped and live, Barrett proved to be a skilled pro who grew up honing her vocals and stage presence by performing from Kennywood amusement park in West Mifflin, Pa., to Nashville.
Gabby Barrett, 18, didn't win, but she came close.
GETTY IMAGES Enlarge
For more than two hours leading up to the live, two-hour broadcast Monday night, friends, family, and fans of the singer gathered at the Crafthouse Stage & Grill in Baldwin Borough, Pa., for the last of what had become regularly scheduled Gabby-fests throughout Season 16.
More than halfway through the program, the stage lights were dimmed and it was time to announce the final two. Mr. Hutchinson's name was read first. As Barrett and Poppe embraced, host Ryan Seacrest asked "Are you ready?"
"No," Barrett said, laughing nervously.
There was a stunned reaction from the crowd when it was announced that Barrett had been eliminated; she had been considered a favorite throughout the competition.
But her fan base remained staunch. Many at the Crafthouse were wearing black "GB" T-shirts that were being sold to help the family finance its lengthy stay with her on the West Coast.
Friends of the Barrett family had flown out to Los Angeles in recent weeks to join the singers' parents and siblings in the audience. Among them were Kristie Dutko and her mother, Bonnie Dutko, both of Baldwin, Pa.
"It was just amazing," Kristie Dutko said.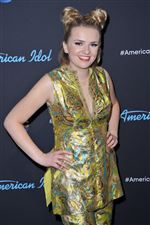 Singer Maddie Poppe won the 'American Idol' competition on Monday.
Getty Images Enlarge
Jessica Eichler of Brentwood, Pa., bartends on Sunday nights and said the past weeks have been "invigorating."
"There were many times where I went to serve someone, and I was crying," she said.
Emotions were running high at the Crafthouse, where a huge screen at the front of the large room and a ring of flat-screen TVs around the bar were tuned to ABC.
Josh Brodak, 15, and an old friend of Barrett's, said that on a "nervous" scale of 1 to 10, "I'm a 12."
Voting began at 8 p.m. Sunday and closed at 9 a.m. Monday. All season, viewers could vote up to 10 times for their favorite via the American Idol app, text, online, or through social media.
Although Pittsburgh hosted one of the American Idol bus tour auditions last summer, Barrett's quest began in Nashville where she has been writing and recording off and on for the past year.
Even before the results were announced, Ms. Barrett said she was moving permanently to Nashville to pursue her professional career. The winner of American Idol gets a recording contract, as well as an unspecified monetary prize.
"No matter what happens tonight," Bonnie Dutko said, "she's a winner."
The Block News Alliance consists of The Blade and the Pittsburgh Post-Gazette. Maria Sciullo is a reporter for the Post-Gazette.
Guidelines: Please keep your comments smart and civil. Don't attack other readers personally, and keep your language decent. Comments that violate these standards, or our privacy statement or visitor's agreement, are subject to being removed and commenters are subject to being banned. To post comments, you must be a registered user on toledoblade.com. To find out more, please visit the FAQ.