APEX, Nev. — The most striking aspect of the testing facility for the potentially revolutionary, multibillion dollar Virgin Hyperloop One in the Mojave Desert is that it is made up of a series of Big Top Fabric Structures, a super-size version of a backyard party tent.
But the 40-acre site 29 miles outside of Las Vegas has everything engineers need to test the high-speed pod that runs inside a low-pressure tube: a 500-meter test track, which is about 1,600 feet; a mission control area about the size of a two-car garage, with 20 computer monitors and two large display screens; temperatures that can range from 10 to 127 degrees, sometimes with monsoon-type wind and rain, and several dozen tube sections about 11 feet in diameter, about 50 feet long and weighing about 58,000 pounds strewn about the site for crews to experiment with.
A break room with two large refrigeration coolers to store beverages — hydration is a big deal in the desert — a solar-powered guard station, and a picturesque mountain backdrop round out the site where Hyperloop's engineers say transportation history is being made. It's the type of history that in the middle of the next decade could have Pittsburghers traveling to Chicago in as little as 48 minutes almost whenever they want.
VIDEO: A trip to the hyperloop testing facility in the Mojave Desert
The proposed route doesn't run through or near Toledo, but advocates in the Toledo area are pushing for the Hyperloop route farther north along what they say would be the most direct route between Chicago and New York: through the Toledo and Cleveland metro areas, with the Ohio Turnpike and I-80 as a logical corridor across Ohio and Pennsylvania.
A local group, the Hyperloop Initiative of Toledo at Code City, said last year in a letter to Hyperloop One and SpaceX that a route through Toledo and Cleveland would catch greater population density than one through Columbus, especially if the route continued on to New York, another major population center. Toledo also would be a logical intersecting point for a Hyperloop corridor between Detroit-​Windsor and cities to the south like Atlanta, it wrote.
After more than 200 test runs in Apex, Nev., in the past year, Hyperloop engineers say they have no doubt the technology works the way it is supposed to. In fact, during a recent tour, Pittsburgh native and head engineer Rob Ferber said crews primarily are working on ancillary details such as which kind of paint will work best on the exterior of the tubes in various climate conditions and developing maintenance robots to do routine repairs.
"It's not testing if the physics is going to work. The system already works," Mr. Ferber said. "But we're building a whole transportation system. This is testing everything else that goes with it."
The media tour was part of a site visit that Virgin Hyperloop arranged for officials from the Mid-West Ohio Regional Planning Commission, which is pushing to have the first operational hyperloop system in the United States on a 488-mile corridor linking Pittsburgh to Chicago via Columbus. The so-called Mid-West Connect proposal was one of 10 that Virgin Hyperloop approved to move ahead after a worldwide competition last year.
Virgin Hyperloop, which has 200 employees based in Los Angeles, is pursuing a concept first envisioned by billionaire Elon Musk about five years ago to move people and cargo at speeds approaching 700 mph through vacuum tubes suspended by magnetic levitation. Mr. Musk is not an investor or otherwise directly involved in the project, but Mr. Ferber and other top officials all previously worked for his other companies, such as Tesla and Space-X.
Technology perfected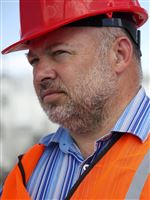 Hyperloop One head engineer Rob Ferber
JESSIE WARDARSKI/POST-GAZETTE Enlarge
Mr. Ferber said hyperloop's "Kitty Hawk moment" came last May, when the first pod zoomed down the test track. Before that, everything had been theoretical.
"The moment you go from 'we will' to 'we have done it,' the world changes," Mr. Ferber said. "We started out with, 'I think this should work.' Our models have borne out that this works. "We've done it. All systems have been operating flawlessly."
The key to the entire operation, Mr. Ferber said, is eliminating friction, most of which comes from air. Eliminate the air, and the friction goes with it. He compared it to a jet plane, which he said uses most of its energy forcing its way through the lower atmosphere until it reaches a height with little air pressure.
"[With the low-pressure tube] we're not having to spend all of that energy getting the air out of the way," he said. "We have now won the friction equation."
One major benefit of this type of system, he said, is that it is not a huge electricity drain. A Tesla car uses about 160 watts of power per passenger mile; hyperloop will use less than 100 watts.
On the test track, the hyperloop has reached a top speed of about 240 mph. It can't go much faster there because of the short distance, but it's enough to know the technology works, Mr. Ferber said. Initially, hyperloop officials said the system would have no trouble reaching more than 700 mph. But Mr. Ferber said that would be in perfectly flat, straight configurations with no hills, valleys or curves.
In practical operation, the system likely will run about 500 mph, increasing the initial expected time from Pittsburgh to Chicago from 29 minutes to 48 minutes — still way less than air travel. The test-model pod is about the length of a small tractor-trailer with an aerodynamic front covered with the same carbon fiber used on the nose of jet airplanes. This one is a cargo model, but one for passengers would use the same technology, and the size can vary based on the needs in a particular corridor. The passenger pod would hold eight to 50 people.
So far, the only passenger on the system has been Thor, a stuffed animal that belongs to the child of one of the engineers. There's no need to test it with humans, Mr. Ferber said, for safety reasons because "it's irrelevant."
"Nothing interesting happens when you put people in it," he said. "By the time you put people in it, all the safety features have to be worked out. Nothing different happens to people."
In fact, Mr. Ferber scoffed at Uber's notion that it has to test its self-driving vehicles with passengers in them to help perfect the technology.
"That's just B.S. That's a bald-faced lie," he said in a three-minute rant. "They just don't want to pay for the testing. Uber has done more damage to the development of the autonomous vehicle than anything else with that approach."
Mr. Ferber said safety is at the forefront for Richard Branson, the billionaire owner of Virgin who invested in Hyperloop One last year.
"This is going to be at least as safe as everything else out there, if not safer."
The rider's experience in a hyperloop pod will be similar to riding in an airplane except quieter and smoother, Mr. Ferber said. Engineers know this from watching video taken by cameras inside the pod during test runs.
"It has to run really, really well and really, really reliably, and it will," Mr. Ferber said. "Your coffee won't slosh. Your coffee won't spill."
Custom service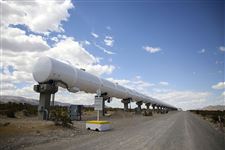 The 500-meter Devloop, or Development loop, essentially a test tube for the Virgin Hyperloop One pod, stretches out along a wide gravel road at the testing facility in Apex, Nev.
JESSIE WARDARSKI/BLOCK NEWS ALLIANCE Enlarge
Another attraction of hyperloop will be individualized service, both for the corridor installing the system and the rider using it.
Mr. Ferber said the job of Hyperloop's engineers is to develop the technology, then adapt it to the needs of each area. That's why the variety of weather conditions in Apex, Nev., are ideal for testing — hot and dry like parts of the Middle East, wet and humid like parts of India, and freezing cold like the Midwest United States in the winter.
The engineers "don't care" whether local operators want to move passengers, cargo, or a combination, Mr. Ferber said. It doesn't matter whether they want stations every 2 miles or every 200 miles. Those are "business side" questions for the corridor operator to decide and engineers to deliver.
The system will run on parallel routes in both directions, sometimes in separate tubes, others in the same tubes. Mr. Ferber said he expects many systems will try to follow existing rights of way such as railroads, trails, tunnels, and mining operations to hold down costs.
The system will require sites for vacuum pumps every 10 to 100 miles, as the tubes lose a bit of pressure each time the doors are opened for passengers or cargo.
Each ride will be on-demand, nonstop service from station to station, sometimes with others making the same trip, others a solo trip. For example, one rider in Pittsburgh could schedule a pod to Columbus while another schedules one for Marysville, Ohio, and a third travels to Chicago. Another might go from Lima, Ohio, to Marysville.
Fares will be determined by each corridor, but the cost should be substantially lower than air fare and at least competitive with existing rail service but substantially faster.
That's the other key along with technology — convincing banks the corridors can at least cover costs so they provide the billions in capital to build systems. It's what Mr. Ferber calls "bankability."
Right now, Mr. Ferber said he expects the first operating hyperloop to open about the middle of the next decade, likely in India or Dubai and perhaps with a concentration on cargo. On April 30, Virgin Hyperloop announced a joint venture with Dubai port operator DP World to develop a corridor there called DP World Cargospeed and in February signed a contract to develop a 10-kilometer corridor between Mumbai and Pune, India.
Whichever system moves ahead first will be the first extended distance that will have to win governmental approval. That's when hyperloop will have to convince regulators the system can operate safely and reliably.
Paul Toth, president and chief executive officer of the Toledo-Lucas County Port Authority, said he overcame initial skepticism when he first heard of the Hyperloop concept to conclude that most of the technology involved already exists — it's just proposed to be used in a new way.
"We would be crazy if we were not at the table trying to connect Toledo to this sort of thing," Mr. Toth said, arguing for a changed path in the proposed route from Pittsburgh to Chicago.
Midwest connect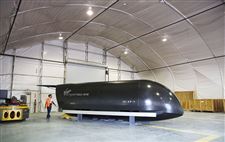 David Israel, director of Content and Digital Product at Virgin Hyperloop One, walks to the rear of the Virgin Hyperloop One 'cargo' pod at the testing facility in Apex, Nev.
JESSIE WARDARSKI/BLOCK NEWS ALLIANCE Enlarge
A four-member team from the Mid-Ohio Regional Planning Commission toured the test facility in mid-May.
The commission is working with communities, universities, and organizations throughout the corridor, including the Southwestern Pennsylvania Commission and the Pennsylvania Department of Transportation, to develop the details of the corridor and identify participants for a public-private partnership to fund the project. The Mid-Ohio Commission used a similar approach to help Columbus win the $50 million Smart Cities Challenge from the federal Department of Transportation two years ago.
The corridor is especially attractive for moving cargo. In 2015, the corridor moved 5.9 million tons of goods and that is expected to grow to 9 million tons by 2040 without Hyperloop.
The commission expects to pick a consultant in the next few months to oversee dual studies known as the Rapid-Speed Transportation Initiative, one an environmental impact study and the other a feasibility study that is an extension of an ongoing study of rail passenger service between Columbus and Chicago. The studies jointly will cost about $2.5 million and should be completed by mid-2019.
Blade staff writer David Patch contributed to this story.
Block News Alliance consists of The Blade and the Pittsburgh Post-Gazette. Ed Blazina is a reporter for the Post-Gazette.
Guidelines: Please keep your comments smart and civil. Don't attack other readers personally, and keep your language decent. Comments that violate these standards, or our privacy statement or visitor's agreement, are subject to being removed and commenters are subject to being banned. To post comments, you must be a registered user on toledoblade.com. To find out more, please visit the FAQ.