LOS ANGELES — Not too long ago, Brian Regnier was fueling up at a Nebraska gas station on his way to visit family in Colorado when a fellow in a Jeep Wrangler pulled into the pump behind him.
Regnier, a team leader at Fiat Chrysler's Toledo Assembly Complex, asked the guy how he liked his Jeep. When the stranger-turned-friend told Regnier it was the best vehicle he'd ever had, Regnier bragged a little.
Mike Manley, president and CEO of Jeep, introduces the 2019 Jeep Wrangler during the Los Angeles Auto Show Wednesday.
ASSOCIATED PRESS Enlarge
"We build those in Toledo," he recalled saying, mentioning he worked there.
The Wrangler driver may not have known Regnier, but he sure knew Toledo — home of the Jeep.
"We had a small conversation about it. It's known everywhere, it really is," Regnier said earlier this week.
The Jeep Wrangler is one of the few automotive models truly worthy of being called an icon.
Born in Toledo to help the Allies win World War II, the Willys MB outgrew its olive drab paint to become a useful farm tool, a go-anywhere runabout, and a topless beach cruiser.
"One of the things I love about FCA is we have very storied brands," FCA design chief Ralph Gilles told me Wednesday. "The Wrangler, it's more than just a vehicle. It's an American icon. It's not just jeep's icon, it's an American icon. It's a national pride product that's a national treasure in a way, if you think about it. It helped win the war."
As the years wore on, the CJ, or civilian Jeep — even its name was utilitarian — grew into a something more than any Army general could have imagined. It launched a brand. It got bigger engines. In the 1970s, it even got doors.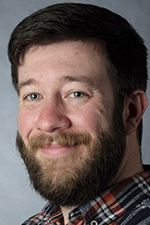 Linkhorn
Doors. Can you imagine?
The Wrangler name was launched in 1986, and on Wednesday Fiat Chrysler debuted an all-new model of the Wrangler at the Los Angeles Auto Show.
It's not an exaggeration to say Jeep's program here was one of the hottest tickets in town.
"Of all the press conferences that I've done, I cannot think of one where the level of anticipation has been as intense as this one," Jeep brand head Mike Manely said near the top of his presentation.
Los Angeles, a city of glamour, electric cars, and relentless progressiveness, might seem an odd place to debut the next version of the closest thing to the automotive industry has to a living fossil. That's how slow the pace of change has been on the Wrangler.
It's fair to say that pace has quickened.
Come 2020, there will be a plug-in hybrid.
Now that's L.A.
But as the Wrangler rolls into the future, its roots are still deep in Toledo.
"My pride in this vehicle is immeasurable," says Billy Baker, another team leader at the Toledo Assembly Complex. "The new Wrangler's our baby. It's been handed down to us from generations that gave their blood, sweat, and tears, and now it's our responsibility to oversee that legacy."
FCA spent some $700 million to equip the Toledo plant for the new Wrangler, and employees there have for months been working under a shroud of secrecy, a practical Glass City Skunkworks, to bring the next-gen Wrangler to life.
"It really does look amazing and we're really excited to have the public see it," Regnier says. "Once people see it, I think they're really going to know why we brag about it."
The reaction I saw Wednesday seems to square with that.
There was unquestionably a buzz about the new Wrangler. Company executives say it's going to sell well, and based on past history and what I've seen so far from the new model, I believe them.
The next-generation Wrangler may well shake loose some shoppers who wouldn't have previously considered buying one.
The technology is all there. And executives and engineers tell me the new vehicle drives far better on the road than its predecessors, which were known for a rough and at times noisy ride.
We'll get a chance to test that next week when I head down to Tucson, Ariz., to drive one.
Strong sales mean strong profits for Fiat Chrysler. But for Toledo, it also means job security.
"To me it means I have a great future with Jeep," Carolyn Rickman, a 17-year veteran of the Toledo Assembly Complex told me. "Keeping the Wrangler here in Toledo, I'm really proud of it."
The new vehicle will hit showrooms in January.
Contact Tyrel Linkhorn at tlinkhorn@theblade.com, 419-724-6134, or on Twitter @TyrelLinkhorn.
Guidelines: Please keep your comments smart and civil. Don't attack other readers personally, and keep your language decent. Comments that violate these standards, or our privacy statement or visitor's agreement, are subject to being removed and commenters are subject to being banned. To post comments, you must be a registered user on toledoblade.com. To find out more, please visit the FAQ.