LOS ANGELES — Good design is all about details, and Mark Allen is telling me how he managed to convince one of his interior designers to go with an easily adjustable round vent in the new Jeep Wrangler.
"He was trying to go a different way," says Allen, the head of design for Jeep.
So, on a cold morning in Moab, Utah — what heaven would be if it were made of red rocks and off-road trials — Allen steered him to a Wrangler without doors or a top.
Mark Allen, head of Jeep design at Fiat-Chrysler.
THE BLADE/TYREL LINKHORN
Enlarge | Buy This Image
"He drove it. Then he understood you can point the vents at your hands and you'll survive."
The new Wrangler got the round vents Allen wanted.
I tell him it's almost like he's running a psychological warfare unit inside Jeep's design studio.
Allen laughs.
"Yes," he says with a smile. "I like that."
Allen has been with Jeep for 24 years. Though an old flat-fendered CJ was his first car, designing Jeeps wasn't some childhood goal. He really wanted to design cars.
But as it tends to do, Jeeping got hold of Allen and didn't let go. After his first real off-roading trip he bought a Jeep.
Today he's probably as well known in Moab as he is in Detroit.
"He lives the lifestyle of an outdoorsman, and a nature lover, and all that," says Ralph Gilles, Allen's boss and the head of design at FCA. "He's a quintessential Jeep guy."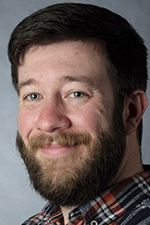 Linkhorn
Allen cares deeply about the history and tradition of the Wrangler. He told me he saw his most important job during the Wrangler redesign as ensuring those working alongside him understand the vehicle and what it stands for.
He makes them go off-roading. His team even sawed the body of a ratty old Willys in half and hung it on the wall in the design studio.
"If you're going to work on a Jeep, you need to understand it," Allen says. "We take them out and show them the culture, the people that are out there, what they're doing with their vehicles and why they do it, and teach them how to properly drive off road."
That dedication and understanding shows.
The way the headlamps cut into the first grille slots, reminiscent of the CJ-2A and CJ-5s. The way they designed a small protective shield for the air valve stem on the Rubicon's rims after a rock sheared one off while the team was off-roading. The fact that Allen fought for continuing the fold-down windshield, even though manufacturing hated it for painting, engineering said they'd never do it again, and nobody was asking for it.
For Allen, it was a piece of Wrangler's history, and that history has to be preserved.
"This is his car," Gilles said. "I rarely say that because it takes a village to make a car ... but this is really Mark's living understanding of what the brand's all about being manifested into the Wrangler. You'll feel it when you talk to him."
And Jeep seems to have hit the target. The new vehicle has a presence that doesn't entirely come through in photographs. It's familiar but all new. It's authentic.
We'll get a chance to drive a new Wrangler soon. In the meantime, though, I'll just admire the work Allen and his team did to design the vehicle inside and out.
Even if it took a little Jeep indoctrination to get there.
Contact Tyrel Linkhorn at tlinkhorn@theblade.com, 419-724-6134, or on Twitter @TyrelLinkhorn.
Guidelines: Please keep your comments smart and civil. Don't attack other readers personally, and keep your language decent. Comments that violate these standards, or our privacy statement or visitor's agreement, are subject to being removed and commenters are subject to being banned. To post comments, you must be a registered user on toledoblade.com. To find out more, please visit the FAQ.