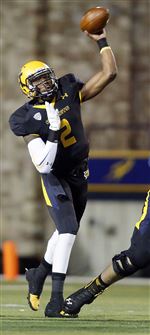 Terrance Owens and the Rockets will host Northern Illinois today in a chance to win the Mid-American Conference West title.
BLADE/JEREMY WADSWORTH Enlarge
Happy Rocket Football Day!
Will this day that Mayor Mike Bell declared in support of his favorite college team end blissfully? That answer, which should crystallize sometime around 11 p.m., hinges on whether the University of Toledo can finally clear its annual late-season hurdle known better as the Northern Illinois Huskies.
"It aches your body and frustrates you," senior defensive end Jayrone Elliott said of dropping the last three meetings to NIU with the Mid-American Conference West division title on the line.
Seasons like the ones had by these teams don't get much more predictable. Ever since the MAC released its league schedule last spring, there has been a strong belief this meeting between rivals picked first and second in the division would be for something meaningful.
Kickoff from the Glass Bowl is set for 8 p.m. The game will be shown on ESPN2.
If the undefeated and 20th-ranked Huskies win, they capture their fourth straight division title. If UT breaks through the glass ceiling, the Rockets will claim the championship, provided the final week of the season unfolds without surprise. Toledo must win at Akron next Thursday, two days after NIU hosts woebegone Western Michigan.
"If we do get a lead in the football game, we have to do a great job finishing," Rockets coach Matt Campbell said. "If you remember last year we had a lead and certainly didn't come out and finish the game."
Yeah, we remember last year, when the Huskies erupted for 347 yards and three touchdowns in the third quarter to win 31-24.
We also remember the year before when then Toledo coach Tim Beckman refused to call timeout late in the game with his defense on the field. His decision robbed Toledo's offense of enough time to answer a NIU touchdown, and the Rockets fell 63-60.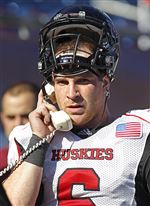 Northern Illinois QB Jordan Lynch is an offensive weapon for the Huskies. NIU has won the last three MAC West division titles.
ASSOCIATED PRESS Enlarge
Most would rather not remember the 2010 mugging in DeKalb, Ill. NIU raced out to a 28-0 halftime lead and never stopped scoring in a 65-30 rout.
"That's embarrassing," Elliott said. "I feel like we're not doing our job when we give up 50, 60 points."
So what's the plan for ending the losing streak? A healthy David Fluellen would be a good start. Fluellen, the two-time 1,000-yard rusher, missed the past two games with an Achilles injury. He's considered a game-time decision.
Campbell says his defense must tackle well — not an easy task considering the elusiveness of NIU quarterback Jordan Lynch — and his offense must strive for efficiency.
"It has to be a constant ability to put points on the board and be efficient with drives and opportunities," Campbell said.
A year ago the Rockets were reasonably efficient, scoring touchdowns on three of five red zone trips and kicking a field goal on another. Three drives ended with Terrance Owens throwing an interception.
"We have to win the fourth quarter," Owens said. "The last couple games I feel like we haven't been finishing the game. It's going to come down to the fourth quarter."
Contact Ryan Autullo at: rautullo@theblade.com, 419-724-6160 or on Twitter @AutulloBlade.
Guidelines: Please keep your comments smart and civil. Don't attack other readers personally, and keep your language decent. Comments that violate these standards, or our privacy statement or visitor's agreement, are subject to being removed and commenters are subject to being banned. To post comments, you must be a registered user on toledoblade.com. To find out more, please visit the FAQ.