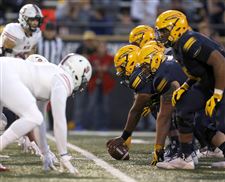 Toledo has key matchup vs. Ohio this week.
BLADE/KURT STEISS Enlarge
When the University of Toledo football team faces Ohio University on Wednesday, it will be a matchup of two of the most consistently successful programs in the Mid-American Conference in the last decade.
In fact, since Frank Solich took over as head coach of Ohio in 2005, the Bobcats are 95-69 with a winning percentage of 57.9 percent, while Toledo is 96-62 with a winning percentage of 60.8 percent.
The Rockets and Bobcats are second and third, respectively, in the conference in wins during that time, trailing only Northern Illinois' MAC-best 105 wins.
"I have a ton of respect for their coaches and what they have done," Solich said of Toledo. "When Matt [Campbell] left, that void got filled quickly. They are just a solid football program. It's been that way throughout the time that I've been in the MAC, which has been 13 years. I have a tremendous amount of respect for what they have gotten done, and what they continue to get done."
UT coach Jason Candle said Solich has been well respected by his fellow coaches, dating to his days as coach at Nebraska.
"He's a tremendous guy, and I have a lot of respect for him," Candle said of Solich. "He's done a lot of great things in our profession, and he's been really good for our conference. He's certainly a guy who everyone in our league has a tremendous amount of respect for. They are methodical in their approach and their routine, and it's successful. I have said the same thing about Northern Illinois, that they have a winning culture. Ohio, like Northern Illinois, does as well."
Last season, Ohio topped Toledo 31-26 for its first win at the Glass Bowl since 1967 on the way to making the MAC championship game.
"I don't think we started that game clean," Candle said. "I remember a bunch of penalties in the first 18 or 19 minutes of that game. There were unforced errors, dropped balls, quarterback pressures, and mistakes on defense."
Ohio comes into this season's matchup with one of the top dual-threat quarterbacks in the conference in sophomore Nathan Rourke. Rourke has 16 rushing touchdowns on top of his 1,504 yards passing with 13 touchdowns. He leads the top scoring offense in the MAC at 41.2 points per game.
"He's a good quarterback," UT senior defensive tackle Marquise Moore said. "He can sling it down the field, he can make the short passes, and he can get out of the pocket with his feet and create some plays. He's just a good player."
Toledo comes into the game with one of the conference's best offenses as well. Led by senior quarterback Logan Woodside and senior running back Terry Swanson, the Rockets are second in scoring at 39.0 points per game.
"We just have to play together," UT senior offensive tackle Elijah Nkansah said. "That's been one of the main focuses of the past couple weeks whenever we are in our meetings the night before or the day of, we communicate that. They are a really good defense, and they are having great season as well. We just have to overmatch their intensity and their passion, and go out and play hard for 60 minutes."
Wednesday's game features the top team in MAC West in Toledo (8-1, 5-0 MAC) and the co-leader of the MAC East in Ohio (7-2, 4-1).
"On paper it shows as a great football game and I suspect that that will be the case," Solich said. "Both teams have very talented players."
Contact Brian Buckey at: bbuckey@theblade.com, 419-724-6110, or on Twitter @BrianBuckey.
Guidelines: Please keep your comments smart and civil. Don't attack other readers personally, and keep your language decent. Comments that violate these standards, or our privacy statement or visitor's agreement, are subject to being removed and commenters are subject to being banned. To post comments, you must be a registered user on toledoblade.com. To find out more, please visit the FAQ.