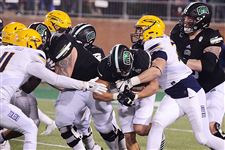 University of Toledo's Marcus Whitfield and Zach Quinn bring down Ohio's A.J. Ouellette.
Toledo tripped up at Ohio on Wednesday as the Bobcats cruised to a convincing 38-10 win. Here are three takeaways from the game:
1) Ohio dominated rushing game: A quick glance at the stats shows a huge disparity in rushing. Ohio racked up 393 rushing yards as Dorian Brown rushed for 142 yards, quarterback Nathan Rourke added 115 rushing yards, and A.J. Ouellette chipped in with 70 yards. Toledo, meanwhile, was held to 53 rushing yards as a team. Shakif Seymour led the way for the Rockets with 77 yards and quarterback Logan Woodside was credited with -29 yards because of taking four sacks.
2) Bobcats pressured Logan Woodside: Toledo gave up four sacks, including three by linebacker Quentin Poling. Woodside was also hurried four times. The Bobcats were aggressive at times in rushing the passer, with several blitzes that got to Woodside in the backfield.
3) Toledo was deflated by two first half turnovers: On the opening possession of the game, Toledo was driving down the field efficiently. But after an 11-yard catch by running back Art Thompkins, he fumbled and Ohio recovered. Then late in the second quarter, Diontae Johnson caught a pass and then was stripped by an Ohio defender, which led to a Bobcats field goal just before halftime. The Rockets did force three Ohio turnovers in the first half, but they will have to limit the turnovers going forward.
Guidelines: Please keep your comments smart and civil. Don't attack other readers personally, and keep your language decent. Comments that violate these standards, or our privacy statement or visitor's agreement, are subject to being removed and commenters are subject to being banned. To post comments, you must be a registered user on toledoblade.com. To find out more, please visit the FAQ.