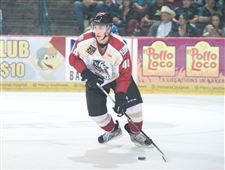 Olivier Dame-Malka
The Walleye traded forward Max Campbell and defenseman Dale Warkentin to Bakersfield today in exchange for defenseman Olivier Dame-Malka.
Dame-Malka, a second-year pro, has played in 23 games this year for the Condors. He has scored five goals to go along with seven assists and has 66 penalty minutes.
Dame-Malka, a native of Montreal, will not be in the lineup tonight when the Walleye play at Fort Wayne. Faceoff is at 7:30 p.m.
"Dame-Malka is a skilled, physical defenseman who will bring a lot of energy to our team," Walleye coach Nick Vitucci said. "He plays both ends of the ice very well."
Campbell was ranked seventh on the team in scoring. He played in 30 games with the Walleye, scoring 11 goals to go along with nine assists. Campbell, who is in his second season of pro hockey and first with the Walleye, scored two goals and had an assist in the season opener. Campbell, a center, scored the first goal of the season for the Walleye.
Warkentin had two assists in seven games with Toledo.
Dame-Malka spent most of last season with Wheeling, appearing in 36 games and had 18 points (7 G, 11 A). Dame-Malka also spent some of his first professional season with Hamilton of the American Hockey League. He had three points in 21 contests.
Guidelines: Please keep your comments smart and civil. Don't attack other readers personally, and keep your language decent. Comments that violate these standards, or our privacy statement or visitor's agreement, are subject to being removed and commenters are subject to being banned. To post comments, you must be a registered user on toledoblade.com. To find out more, please visit the FAQ.