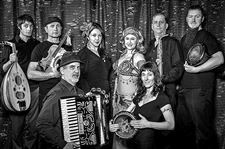 Raq the Casbah is scheduled to perform at the Attic on Adams during the 2013 SoundTrek Live Music Festival.
After a record-breaking year for Artomatic 419! and another successful debut for the Thursday Art Walk program, what does the Arts Commission of Greater Toledo do for a followup?
How about a Friday night in which downtown Toledo is filled with the sound of live music from more than three dozen local bands and disc jockeys?
The third SoundTrek live Local Music Experience is loaded with musical diversity that spans bluegrass, hip-hop, blues, Americana, jazz, funk, rock, and more.
The event Friday from 8:30 p.m. to 1 a.m. will take place in the UpTown neighborhood along the Adams Street corridor and musicians will be in clubs, restaurants, parking lots, and sidewalks.
Eleven venues will participate, including the corner park at the Toledo-Lucas County Main Public Library, Glass City Cafe, The Love Wall, Wesley's Bar, Manos Community Garden, Toledo School for the Arts, Manhattan's Restaurant, The Attic on Adams, The Truth Art Gallery, Ottawa Tavern, and Bretz.
Among the musicians and DJs who will perform are Andrew Ellis and Lucky Lemont, Estar Cohen Project, Homeville Circle, Old State Line, Elevated Thinkin', DFR, Cottonwood String Band, and The Bricks. For more information on what bands are playing and where go to: theartscommission.org/Programs/soundtrek.
Pre-sale wristbands are $10 in advance, and $15 night of the event. Single venue admission is $5 each. Pre-sale wristbands are available at The Arts Commission's Offices, 1838 Parkwood Ave., The Art Supply Depo, Culture Clash Records, Shakin' Street Records, Loonar Station (Cricket West), as well as at most participating venues (including Ottawa Tavern, Truth Art Gallery, The Attic on Adams, Manhattan's Restaurant, and Glass City Café).
Information: theartscommission.org or 419-254-2787.
Guidelines: Please keep your comments smart and civil. Don't attack other readers personally, and keep your language decent. Comments that violate these standards, or our privacy statement or visitor's agreement, are subject to being removed and commenters are subject to being banned. To post comments, you must be a registered user on toledoblade.com. To find out more, please visit the FAQ.