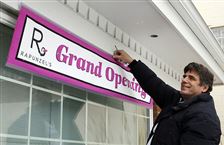 Vincent Hooper, general manager of Rapunzel's Lice Boutique, hangs a sign heralding the grand opening. A treatment costs $145, takes about 30 minutes, and kills 99.2 percent of lice and eggs.
THE BLADE/JEREMY WADSWORTH
Enlarge | Buy This Image
When Sarah Casello-Rees tells people what she does for a living, they usually take a few steps back and start scratching their scalps.
Ms. Casello-Rees is in the business of ridding people of lice — a harmless but oh-so-gross parasite that's estimated to affect as many as 12 million children every year.
Lice and their eggs can be devilishly difficult to get rid of, something Ms. Casello-Rees learned first-hand several years ago when her son was in kindergarten.
"He was just crawling with them," she said. "There was a zoo of lice in his hair, and I felt like the worst mother in the world."
The lice also took up residence in her own curly locks. She said it took a year of over-the-counter treatments and home remedies to completely rid them of the insects.
At the time, Ms. Casello-Rees was working as a personal trainer. But as the recession set it, many clients cut her services as a luxury item they couldn't afford.
"It was a horrible, horrible situation for me at the depth of the economy that presented an opportunity," she said.
It turns out lice and their eggs can be killed by heat, and the Food and Drug Administration has cleared a device developed by biologists at the University of Utah called the AirAlle to do just that.
Ms. Casello-Rees started using the AirAlle in 2008, and opened her first salon, called Rapunzel's Lice Boutique, in Ann Arbor in 2009. Two more locations soon followed in Sterling Heights and Farmington Hills, Mich.
Her fourth salon officially opens today at 2525 N. Reynolds Rd. in Toledo. She's offering free head checks today from noon to 4 p.m.
The AirAlle blows heated air to dehydrate and kill the lice and their eggs. A treatment costs $145, takes about 30 minutes, and kills 99.2 percent of lice and eggs, she said.
The device looks a bit like a dryer hose with soft pronged attachments at the end. She said the treatment feels a bit like getting a scalp massage.
Dr. Valarie Stricklen, a pediatrician at the University of Toledo Medical Center, formerly the Medical College of Ohio, hadn't previously heard of the device, but said she couldn't discount it being effective.
And while lice are harmless, they are a common annoyance for her patients.
"We get, oh my goodness, hundreds and hundreds of phone calls through the year about it," she said. "Most of the time they're not first time calls. Multiple treatments have been done, and they still can't get rid of them."
Most commonly, Dr. Stricklen said, lice affect toddlers through middle-school age children. She typically recommends over-the-counter treatments, but Dr. Stricklen and Ms. Casello-Rees say some lice have developed resistance to common treatments.
Dr. Stricklen said home remedies such as coating the whole head in mayonnaise to suffocate the lice also can work. But either way, all the eggs need to be pulled off the hair, a tedious process that can take days.
That's why Ms. Casello-Rees says her treatment works so well.
"Killing the eggs is the holy grail of any lice treatment because without killing the eggs you cannot get rid of the infesting because they will hatch," she said.
She said business has been good. The company now employs about 20 people and treated about 3,400 people last year.
She also says it's recession-proof. After all, you might cut your personal trainer when money gets tight. But parasites? People will still pay to get rid of that.
Contact Tyrel Linkhorn at tlinkhorn@theblade.com or 419-724-6134.
Guidelines: Please keep your comments smart and civil. Don't attack other readers personally, and keep your language decent. Comments that violate these standards, or our privacy statement or visitor's agreement, are subject to being removed and commenters are subject to being banned. To post comments, you must be a registered user on toledoblade.com. To find out more, please visit the FAQ.