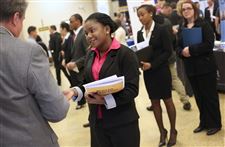 The Blade/Katie Rausch
Enlarge | Buy This Image
Finance sophomore Ezinwa Omodom, center, speaks with a 3M Frontline representative about a potential internship during the spring job fair hosted by the University of Toledo's College of Business and Innovation at the university's Student Union Friday, Feb. 7, 2014, in West Toledo. The fair featured 103 different organizations looking to recruit full time employees and interns from the roughly 450 students who were expected to visit. Terribeth Gordon-Moore, the college's senior assistant dean and director of undergraduate programs and administration, said the college had about an 80 percent full-time placement rate for students after graduation and credited the job fair, now in its 13th year, with helping to bolster job placement.