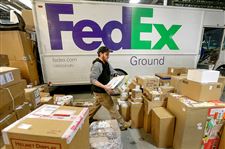 Package handler Chris Addison arranges boxes before load-ing a truck at a FedEx sorting facility in Kansas City, Mo. FedEx plans some deliveries in the Toledo area today.
ASSOCIATED PRESS Enlarge
FedEx Corp. plans to run Christmas Day deliveries in some markets, including the Toledo area, to help complete shipments after severe weather interrupted services in the run-up to the holiday.
"FedEx is operating with slight delays this morning, but we are continuing to make adjustments and do everything we can to minimize impact on our customers," according to an emailed statement Thursday. The company didn't identify where the slowdowns were occurring.
Customer counters at FedEx Express stations across the country will be open in most instances from 9 a.m. to 1 p.m. today so customers can pick up shipments, the company said. Weather began interrupting operations on Wednesday, according to FedEx.
A FedEx service representative said the company's FedEx Express counter at 7600 Caple Blvd. in Perrysburg Township plans to be open from 9 a.m. to noon today for customers to pick up packages.
Rae Lyn Rushing, a FedEx spokesman, said in an email statement the company "is doing everything possible to get customer shipments delivered by Christmas in spite of slight delays due to heavier than planned last-minute shipment volumes and severe weather outbreaks in some areas of the U.S."
She said FedEx Express will run limited delivery operations on Christmas Day in some markets to deliver shipments that could not be delivered before Christmas. Priority is being given to residential shipments for Christmas Day deliveries.
Ms. Rushing said that many of these residential deliveries will be re-attempts to deliver to customers who were not at home to accept previously attempted deliveries.
"FedEx Express employees have volunteered to work these Christmas Day shifts for the benefit of our customers. Customers can determine if their shipment is scheduled for Christmas Day delivery or available for pickup at a FedEx Express station in their market by checking fedex.com or calling 1-800-GOFEDEX with a tracking number," Ms. Rushing said.
FedEx Office locations will not be open on Christmas Day, the company said.
FedEx's efforts reflect the increasing importance of online orders as a source of Christmas gifts — and the extreme time-sensitivity of those shipments. In 2013, a last-minute surge of holiday orders converged with winter weather to leave United Parcel Service Inc. unable to deliver some packages in time, triggering an avalanche of complaints on social media.
The National Retail Federation has forecast a 3.7 percent increase in holiday spending this year, and merchants rolled out discounts — including on shipping costs — early to grab their share. This year, 90 percent of all retailers are providing free delivery for online purchases, up from 78 percent in 2014, according to HRC Advisory.
UPS, which refined its strategy this year for peak-season operations, has been delivering on-time at about a 98 percent rate this week, said Dan Cardillo, a spokesman. While the company doesn't typically operate on Christmas, it is monitoring volume and could ask "a small fraction" of workers to sort packages or deliver today, he said by email.
"Everything was processed overnight and we expect to maintain current on-time performance," Mr. Cardillo said. "We will be working into the evening tonight to get everything to customers."
Guidelines: Please keep your comments smart and civil. Don't attack other readers personally, and keep your language decent. Comments that violate these standards, or our privacy statement or visitor's agreement, are subject to being removed and commenters are subject to being banned. To post comments, you must be a registered user on toledoblade.com. To find out more, please visit the FAQ.