The Ramada Toledo Hotel and Conference Center, a West Toledo fixture on Secor Road for more than four decades, has been sold and is to be demolished next month to make way for two new hotels and a pair of restaurants.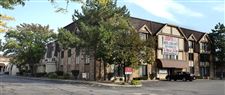 A liquidation sale starts this morning in the Ramada Toledo Hotel and Conference Center.
THE BLADE/LORI KING
Enlarge | Buy This Image
Toledo-based lodging industry developer Key Hotel and Property Management Inc., which has built four area hotels, acquired the 9-acre property last week for $4.2 million from owner Ken MacLaren, of Westgate LP.
The hotel, at 3536 Secor, closed for good Sunday and a liquidation sale to dispose of its contents will begin at 10 a.m. today inside the hotel.
The sale runs through October and everything from furniture to electronics to fixtures is to be sold.
Jon Roumaya, president of Key Hotel, said the 300-room Ramada and its adjoining conference center and office spaces will be torn down in early November.
By March, the new owners plan to break ground for two as-yet undisclosed national restaurants and two hotels — a 111-room Courtyard by Marriott and a 111-room Residence Inn by Marriott.
Mr. Roumaya, who declined to give the price for the redevelopment, said the Marriott chain pre-approved the construction of the two hotels, which will be adjacent to a Hampton Inn and a Holiday Inn Express. Those two hotels, built and owned by Key Hotel, are part of Secor Village, where a 365 by Whole Foods store and a separate retail center are under construction.
A 70-room Quality Inn, located north of the Ramada on Secor Road, is not part of the latest project.
The Ramada, which previously was a Clarion Inn and before that operated for many years as the Sheraton-Westgate, was built in 1973.
For decades, it was the hotel of choice in the area for dignitaries, celebrities, brides-to-be, professional athletes, and even a sitting U.S. president. President Bill Clinton stayed at the then-Clarion Hotel-Westgate in August, 1996, while campaigning for re-election that year.
"That was the only time a sitting president had ever spent a night in Toledo," Mr. MacLaren said, although since then President Obama stayed at the hotel on the University of Toledo Medical College campus in 2012.
"I owned it for 23 years There's a lot of nostalgia, a lot of mixed feelings," said Mr. MacLaren, 80.
He said for two years he sought a buyer to operate the Ramada as a full-service hotel with lodging, dining, and banquet facilities.
But no one was willing to pay close to what he thought the property was worth.
Key Hotel, he said, sought to buy the property for two years and pay full price but only if it could demolish the hotel.
In June, Mr. MacLaren said, he offered the hotel to two prospective buyers who earlier said they would keep it as is. But they no longer were interested, so he struck a deal with Key Hotel.
The Ramada employs 70 full and part-time workers.
Most already have found new jobs and long-time employees are getting severance packages, the former owner said.
Mr. MacLaren said the sale was not concluded until last week, which allowed the hotel to keep running and take care of booked weddings and other events in the summer.
"A wedding on Saturday night there was the last thing we had there," he said.
Mr. Roumaya said demand for new hotel rooms — including the 92-room Holiday Inn Express, which opened on Secor Road in 2016, and the 108-room Hampton, which opened on Secor in 2014 — is being driven by ProMedica and UT.
"Both want new hotel rooms in the area. Secor is a very central location," he said.
All four hotels will complement each other, he added.
The new hotels and restaurants will create about 230 jobs.
An access road will connect all four hotels.
Contact Jon Chavez at: jchavez@theblade.com or 419-724-6128.
Guidelines: Please keep your comments smart and civil. Don't attack other readers personally, and keep your language decent. Comments that violate these standards, or our privacy statement or visitor's agreement, are subject to being removed and commenters are subject to being banned. To post comments, you must be a registered user on toledoblade.com. To find out more, please visit the FAQ.