UberEATS, a phone app-driven food delivery service that pairs Uber's local driving workforce with area restaurants, launches operations in metro Toledo on Thursday.
The service, already in 100 cities nationwide including four in Ohio, lets customers order food from area eateries seven days a week and have Uber drivers bring it to their homes, offices, or everywhere in between.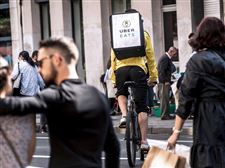 A cycle courier for meal delivery service Uber Eats rides past in Lille.
GETTY IMAGES Enlarge
A spokesman for UberEATS, which is an offshoot of app-driven Uber transportation service, said the company has partnered with 35 area restaurants which are making their menu items available for delivery through the service.
The list includes Tony Packo's, Deets BBQ, Star of India, and Don Juan Mexican Bar and Grill. Most of metro Toledo, including Sylvania, Maumee, Oregon, Northwood, and Ottawa Hills, can use the service.
The UberEATS app is free to download to smartphones. Customers choose a restaurant — the app shows which are open — order food, track delivery, and in a cashless transaction, use the app to pay the bill via credit or debit card. It allows a tip to be included for the driver. A fee for the delivery is shown on the app.
"It's great for the eaters, but it's also great for the restaurants because they have access to a whole new group of customers," said Berry Kennedy, general manager for UberEATS in Ohio.
Last year UberEATS debuted in Columbus, Cleveland, and Cincinnati. Last week it went live in Dayton. Metro Toledo marks its fifth Ohio city.
Several area chains in Toledo, such as Jimmy John's, Domino's, Pizza Hut, Marco's, and Papa John's, already have their own home delivery services. Locals like Oasis restaurants also deliver and a few pizza restaurants have home delivery through GrubHub, an app-driven delivery service.
But UberEATS will pose the most serious threat to those local companies already involved in delivery, including Order On the Way, which has been operating for 23 years and partners with 42 local restaurants; Eat24, which works with 33 restaurants, and Eat Street, which works with 24 restaurants.
"Since Uber launched three years ago in Toledo, there is no denying Uber has changed the way people get around town. When we heard UberEATS would be coming to Toledo, we knew they were the ideal partner to bring Tony Packo's to our guests outside of our traditional restaurants," Tony Packo's vice president Scott Radel said.
UberEATS' website says the service strives for delivery times of 30 minutes or less.
"UberEATS will deliver to a house, to an office, to a picnic in the park if you want," Ms. Kennedy said. "...But with the app you can also schedule orders in advance. Say you know you're going to have 10 people over for breakfast next Saturday. You can schedule to have breakfast waiting there for them when they arrive."
The UberEATS app is distinct from the Uber's transportation app, though both work similarly. Customers also can order food through the website www.ubereats.com.
Ms. Kennedy said while 35 area restaurants have joined, the company's experiences in other cities since the service launched in 2014 shows more will join later.
As Uber did when it launched its transportation service, UberEATS is using social media, emails to Uber users, and discounts to promote its new service — a code, TOLEDOEATS, gives new customers using the app $5 off their first two food orders.
"We're growing really fast. We're in over 100 cities now and have over 40,000 restaurant partners," Ms. Kennedy said. "It's amazing how quickly we've grown."
Contact Business Writer Jon Chavez at jchavez@theblade.com or 419-724-6128.
Guidelines: Please keep your comments smart and civil. Don't attack other readers personally, and keep your language decent. Comments that violate these standards, or our privacy statement or visitor's agreement, are subject to being removed and commenters are subject to being banned. To post comments, you must be a registered user on toledoblade.com. To find out more, please visit the FAQ.