The next time a Clay High School student forgets lunch money, he or she can use the ATM down the hall.
The automated-teller machine is just one aspect of the Oregon school's new credit union located across from the cafeteria. Clay partnered with Sun Federal Credit Union to set up its own, mainly run by students.
Clay student Greg Faneuff, left, signs up for a direct deposit checking account while Senior Taytem Rew, center, Sun/Clay CU volunteer, sits at the cashbox at Clay High School.
The Blade/Amy E. Voigt
Enlarge | Buy This Image
It is believed to be the only arrangement of its kind in northwest Ohio. Principal Jim Jurski said the endeavor was two or three years in the making.
"We've been trying to work out the details and visited a few other schools that had a credit union," he said. "Rigor, relevance, and relationships are the three R's that are sort of predominant now in education. What they learn in the classroom, how to promote their idea, their business, they get to do that firsthand working at the credit union."
The grand opening was last week, although the credit union has been up and running since September. Six students take shifts working at the desk, helping other students make transactions.
Teens may visit the credit union Wednesdays during their lunch period. They can even open up their own checking accounts.
Senior Jack Winckowski, 18, is one of the workers. He said many students have taken advantage of the opportunities.
"I think they're learning about what they should be doing with their money and what the real world is," Jack said. "We usually get one or two people just in our lunch period."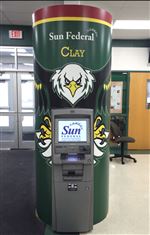 A new ATM machine at Clay High School's new Sun Federal Credit Union.
The Blade/Amy E. Voigt
Enlarge | Buy This Image
Jack is considering a career in marketing or accounting, and believes his experience at the school's credit union will boost his resume.
All Clay students must take an economics class to graduate. Finances are part of the one-semester course, and Sun Federal has been coming in for a few years to speak to students.
Sun Federal employees oversee the operation at Clay, but students do most of the work.
"They take the deposit slips and do all the transactions," member service representative Beth Jarvis said. "I think it's going very well. I wish I had something like this when I was a kid. We didn't learn about it until it was too late, and then mistakes can be made."
Students can also talk to Sun Federal representatives to receive guidance on finances.
"We basically treat them just like everybody else who would come into our credit union," Ms. Jarvis said. "We let them know what their choices are, we hear their life story to see exactly how they'll be using an account, and we make suggestions based on that. We're not here to sell anything, we're here to make sure they're getting the services to make their life better."
Contact Jay Skebba at jskebba@theblade.com, 419-376-9414, or on Twitter @JaySkebbaBlade.
Guidelines: Please keep your comments smart and civil. Don't attack other readers personally, and keep your language decent. Comments that violate these standards, or our privacy statement or visitor's agreement, are subject to being removed and commenters are subject to being banned. To post comments, you must be a registered user on toledoblade.com. To find out more, please visit the FAQ.