The year in business in 2017 was one of great change that many Toledoans won't soon forget.
Some consumer favorites, like The Andersons, Kmart, and the Jeep Cherokee departed the area for good. Others, such as the Appliance Center and Dana Inc. expanded or returned to change the area landscape in a positive way.
RELATED: Toledo's top stories of 2017
ProMedica made a huge splash downtown. Jeep unveiled the redesigned 2018 Jeep Wrangler, while Cedar Fair pleased thrill-seekers with news of a new roller coaster at Cedar Point.
All those changes and more suggest 2018 is poised to be an exciting year for northwest Ohio's economy.
Andersons closes retail stores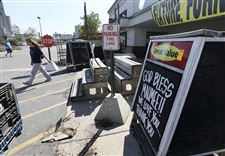 A 'thank you' sign to Maumee is pictured outside the Andersons store in Maumee, Friday June 2, 2017. The Andersons retail stores close on Saturday.
THE BLADE/DAVE ZAPOTOSKY
Enlarge | Buy This Image
The year began with a stunning announcement on Jan. 15 that The Andersons Inc. would close its two local general stores and two stores in Columbus in June, ending jobs for 1,050 employees and sending an army of loyal shoppers into heartbreak.
For the Monclova Township company, retail operations that began in 1952 had become a money-losing endeavor, with $20 million lost over the past eight years and nary a profit since 2008.
Towards the end, shoppers bought merchandise, store equipment, and even signs to take home a part of retail history that had become ingrained in the local pop culture over 65 years.
As Julie Payeff, a company manager said just days before the doors shut at the Maumee store, "People have made friendships here and enjoyed the social atmosphere in the comfortable shopping experience they had for a number of years. Our message today is really one of thankfulness and gratefulness to the customers, to the community ... that have hung in there with us right to this bitter end. We're very grateful for the support that they've provided."
The Andersons wasn't the only well-known retailer to depart in 2017.
In November the last area Kmart at 2830 Navarre Ave. in Oregon was ticketed by its owner, Sears Holding Corp., to close in January. Sears Holding said the closing was part of its ongoing "strategic assessment" of its store base to find the right size and number of stores to operate successfully.
And Kmart wasn't the only store to go. In June, Sears Holding announced that its remaining full-service Sears store in Toledo, on Central Avenue near Secor Road, was to close in September, which it did.
Goodbye, Jeep Cherokee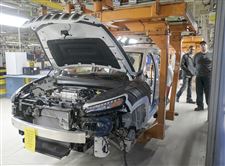 The last Jeep Cherokee produced in Toledo makes it's way through the assembly line Thursday, April 6, 2017, at the Toledo Assembly Complex in Toledo, Ohio.
THE BLADE/JEREMY WADSWORTH
Enlarge | Buy This Image
In April, Toledoans said goodbye to another familiar name — the Jeep Cherokee.
Late on a Thursday with 100 workers watching, the last Toledo-built Cherokee rolled off the line at Fiat Chrysler Automobiles' Toledo Assembly Complex, marking a bittersweet moment for workers and local residents.
"The Cherokee nameplate is a huge part of our success and our history, and there's always that nostalgia when the last one goes off the line," said Bruce Baumhower, president of United Auto Workers Local 12, which represents all of the Toledo Jeep workers and many of its local supplier workers. "You think about not just this vehicle, but the original Cherokee we started with in 1974."
Hello, new Wranger
Blade staff writer Tyrel Linkhorn at the wheel of a Jeep Wrangler Rubicon during a test drive in Tucson, Arizona.
The Blade/Brian Dugger
Enlarge | Buy This Image
But seven months later, the immediate future of the local plant was unveiled at the Los Angeles auto show when Fiat Chrysler Automobiles introduced to momentous buzz the next-generation Jeep Wrangler to be made in Toledo.
Like the current Wrangler, the new vehicle will be built exclusively at Fiat Chrysler's Toledo Assembly Complex. When the revamped north plant hits full production, Toledo should be able to build more than 300,000 Wranglers annually — a significant increase from the plant's current capacity.
The company invested some $700 million into the plant this year to prepare it for the launch. Production is expected to begin within the next several weeks. Company officials have previously said the vehicle will go on sale early next year.
Jeep also announced a Wrangler-based pickup truck — which will be built in Toledo in the same part of the Toledo Assembly Complex that's building the current version of the Wrangler — will debut in 2019
Dana returns with manufacturing presence, Living Appliance Center expands
The new Wrangler prompted Dana Inc. to re-establish a manufacturing presence in Toledo.
In October, Dana moved into a new 300,000-square-foot plant on a redeveloped site previously home to Willys-Overland Motors. The site in the new Overland Industrial Park near I-75 and Detroit Avenue, Is home to the Dana Toledo Driveline Facility, which will build axles for the new Wrangler and have 350 workers by 2020.
But Dana wasn't the only one to seek a bigger presence.
The Appliance Center of Maumee, defying trends to reduce retail space, in November opened its third location — a "Living" Appliance Center in Sylvania to take advantage of the west Toledo market and southern Michigan. The store features display rooms with functional appliances to create an interactive experience for customers.
ProMedica moves sparks downtown boom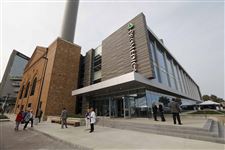 The new ProMedica headquarters in downtown Toledo.
THE BLADE
Enlarge | Buy This Image
The year was marked by tremendous positive happenings downtown.
Topping the list was the September opening of ProMedica's long-awaited new $46 million headquarters in the redeveloped former Toledo Edison steam plant. With a snip of scissors and applause by 400 onlookers, the formal opening ended 3½ years of planning and construction to consolidate approximately 1,000 ProMedica employees from more than 25 buildings to a single campus.
And the headquarters opening was just the start.
Prior to, during, and after its arrival, a bevy of new restaurants either opened or began preparation to open this year and next, including the Chop House of Toledo, Barry Bagels, Pork Belly Sandwich Shop, Fowl & Fodder, City Egg, and Balance.
In August, another new downtown jewel debuted at 444 N. Summit St with the opening of the 241-room Renaissance Toledo Downtown Hotel, a four-star lodging that was renovated over 20 months at a cost of $31 million in renovations. Under the new owner, First Hospitality Group Inc. of Chicago, the 12-story hotel was decorated in a Toledo theme celebrating local history, heritage, and culture honoring the glassmaking and auto industry, and even the M*A*S*H TV show.
Rent dispute for ManorCare, move for Hickory Farms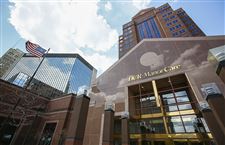 The HCR ManorCare building in downtown Toledo.
THE BLADE/JEREMY WADSWORTH
Enlarge | Buy This Image
But the news downtown in 2017 was not all good.
In May, one of downtown's largest businesses, HCR ManorCare Inc. ran into financial dispute with the landlord who owns the nursing home and assisted living properties that HCR ManorCare operates.
In July, the landlord, Quality Care Properties, of Bethesda, Md., declared the nursing home operator had officially slipped into default by not paying its rent and was on the hook for the balance of its lease, about $265 million. Quality Care Properties later filed a motion in California Superior Court requesting the Toledo firm be placed in receivership.
However, in December, HCR ManorCare struck a deal with its landlord for one year of reduced rent payments. It will owe $23.5 million in monthly rent for its 239 nursing home and assisted living facilities.
Earlier in March, another firm that had spend its life in Toledo, Hickory Farms, Inc., packed up and moved to Chicago under the direction of a new CEO, Diane Pearse.
Ms. Pearse managed to stir the pot after leaving by saying the company left because Toledo was "a manufacturing town" unable to produce the retail marketing, e-commerce marketing, and e-commerce sales talent the company needs to succeed.
Cedar Fair announces new coasters, new leaders
A press conference announces new coaster "Steel Vengeance," at Cedar Point in August.
The Blade
Enlarge | Buy This Image
In Sandusky, Cedar Fair LP made headlines several times in 2017.
In August, the amusement park chain wowed coaster enthusiasts by announcing its latest star in the Cedar Point park lineup, the Steel Vengeance, a wild west themed hybrid coaster that is being built atop the wooden superstructure of the decommissioned Mean Streak and will top out at 205 feet and reach speeds of up to 74 miles per hour when it opens this spring.
But not all of Sandusky-based Cedar Fair's news occurred in an amusement park. A large headline came out of the boardroom in October when Matt Ouimet, the former Walt Disney Co. veteran who led Cedar Fair LP through a physical and digital transformation, announced he was stepping down as CEO on Jan. 1.
Mr. Ouimet, 59, will become executive chairman of the board while company president and industry veteran Richard Zimmerman takes the CEO reins. Mr. Zimmerman, 57, became president in 2016 but had been chief operating officer since 2011 after joining the company in 2007 as an executive vice president.
Contact Blade Business Writer Jon Chavez at jchavez@theblade.com or 419-724-6128.
Guidelines: Please keep your comments smart and civil. Don't attack other readers personally, and keep your language decent. Comments that violate these standards, or our privacy statement or visitor's agreement, are subject to being removed and commenters are subject to being banned. To post comments, you must be a registered user on toledoblade.com. To find out more, please visit the FAQ.