Kroger will commence a new service — Scan, Bag, Go — at its Perrysburg store starting Tuesday as part of the supermarket chain's ongoing efforts to make shopping easier for the grocer's customers.
Scan, Bag, Go allows shoppers using a handheld scanner or a mobile app on a customer's phone to scan and bag items as they shop. When finished, customers simply download the data to the store's self-checkout scanner, pay for the groceries by credit card, cash, or check, and head for their vehicle.
"You can see your running total as you shop," said Kristen Schnapp, a Kroger official who trains employees on the new technology.
The Perrysburg store at 27322 Carronade Dr. is the first area store to get Scan, Bag, Go technology. The system will be rolled out next week at a Kroger's store in Sandusky, then sometime later at its Maumee, Sylvania, Holland, and Bowling Green stores.
Overall, Kroger plans to implement Scan, Bag, Go at 29 stores throughout its Columbus division, which includes northwest Ohio.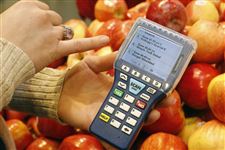 Kristen Schnapp demonstrates how to use Kroger's new Scan-Bag-Go system which will debut Tuesday morning at the Perrysburg Kroger. This shows what coupons are available.
The Blade/Amy E. Voigt
Enlarge | Buy This Image
Amy McCormick, a Kroger spokesman, said company research has shown that about 10 percent of a store's customer base will end up using Scan, Bag, Go regularly. To encourage early use, Kroger is giving customers $5 off their first three orders over $35 using Scan, Bag, Go.
Cincinnati-based Kroger has used the technology, which involves boosting the Wi-Fi signal in each store, at several of its U.S. locations for nearly two years.
It has found customers like it for grouping items their own way and getting through the checkout area quickly.
"Really, the biggest connection is you're bagging everything as you're going through the store, so when you get up to self-checkout you're not having to double-handle your items," said John Wisor, a Kroger Columbus division Scan, Bag, Go specialist.
Stores offering the service will have from 50 to 75 wireless handheld scanners resembling pocket calculators to be placed at the store entrance. Alternatively, customers can download a Scan, Bag, Go app and use their phone.
A customer starts Scan, Bag, Go by scanning their Kroger Plus Card, or inputting their Plus Card account number. Scan, Bag, Go cannot be used without a Plus Card account.
As shoppers move through the store, they use the device or their phone to scan bar codes on items they want to buy before placing the items in their cart. Because the service is linked to Plus Card accounts, shoppers using Scan, Bag, Go automatically receive programmed discounts and digital coupons on various items.
Scan, Bag, Go cannot be used for pharmacy prescriptions or state-controlled liquor purchases.
But it works on all other items. The handheld device even has a GPS tracker so customers needing assistance can get help anywhere in the store.
Kristen Schnapp demonstrates how to use Kroger's new Scan-Bag-Go system which will debut Tuesday morning at the Perrysburg Kroger.
The Blade/Amy E. Voigt
Enlarge | Buy This Image
Kroger envisions Scan, Bag, Go as another way to shop more conveniently, like the ClickList service it launched in the Toledo area in 2016. With ClickList, a customer selects groceries online and picks them up at the store later at a set time.
"Really, our goal is we just want to have as many different shopping options as possible for our customers," Mr. Wisor said, "We have our group of customers that choose to use ClickList and a fairly strong following of customers that are going to want to use Scan, Bag, Go. We really don't see a huge overlap.
"If anything, I will say Scan, Bag, Go may appeal to those customers who like the ClickList functionality but still want the in-store shopping experience," Mr. Wisor said.
Traditionally, having a cashier perform checkout or even using self-checkout prevents or discourages consumer theft. Because a customer using Scan, Bag, Go is largely unwatched, the system allows for greater potential for shoplifting of unscanned items hidden in bags.
Mr. Wisor said Kroger recognizes that potential as the cost of doing business. But Scan, Bag, Go does have some safeguards built in.
At checkout, some orders will be flagged for a random verification of three to five items. A Kroger worker will check the order to see if those items are in the bags. Employees also have been trained to watch customers to see if they are scanning items correctly.
"There's a system in place. It's going to catch the dishonest folks but it's not going to be so overwhelming that it's inconvenient for the rest," Mr. Wisor said.
"We know we're not going to have zero theft with this, but the majority of our customers are honest folks and we want to have this convenience for them," he added.
Contact Jon Chavez at jchavez@theblade.com or 419-724-6128.
Guidelines: Please keep your comments smart and civil. Don't attack other readers personally, and keep your language decent. Comments that violate these standards, or our privacy statement or visitor's agreement, are subject to being removed and commenters are subject to being banned. To post comments, you must be a registered user on toledoblade.com. To find out more, please visit the FAQ.