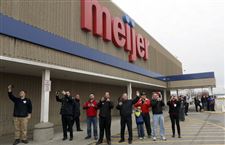 The Blade
Enlarge | Buy This Image
General merchandise and grocery retailer Meijer Inc. said it plans to hold job fairs from 10 a.m. to 3 p.m. Saturday at all 11 of its northwest Ohio and southeast Michigan stores in order to bolster its work force.
The Grand Rapids, Mich., retailer said it expects to hire more than 250 workers, or about 25 new workers per store at its Toledo, Sylvania Township, Maumee, Rossford, Oregon, Bowling Green, Defiance, Findlay, and Lima stores in Ohio, and its Monroe and Adrian stores in Michigan.
Meijer said it is looking for part-time and full-time workers to fill positions ranging from cashiers and third-shift stockers to meat cutters, cake decorators, and department team leaders. Applicants can begin the process by applying online at jobs.meijer.com then visiting any store for an interview.
Guidelines: Please keep your comments smart and civil. Don't attack other readers personally, and keep your language decent. Comments that violate these standards, or our privacy statement or visitor's agreement, are subject to being removed and commenters are subject to being banned. To post comments, you must be a registered user on toledoblade.com. To find out more, please visit the FAQ.