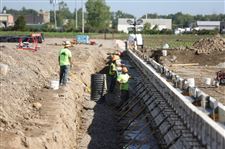 Construction contines on a solar-panel manufacturing plant in Lake Township.
THE BLADE/JETTA FRASER
Enlarge | Buy This Image
UNDER CONSTRUCTION
Construction is well under way for a second solar-panel manufacturing plant in the Toledo area by First Solar Inc. The 1-million-square-foot factory is at the corner of State Rt. 795 and Tracy Road in Lake Township. The $400 million project adds to Toledo-born First Solar's local production as its only North American plant is nearby in Perrysburg Township. The plant is expected to be in use by late 2019. Rudolph Libbe Inc. is the design and builder contractor.
ACHIEVEMENTS
■ Cooper Tire & Rubber Co. of Findlay has announced two senior appointments: Luis Ceneviz, senior vice president and managing director-Europe and Latin America, has been promoted to senior vice president and president, International, effective Oct. 1. Alan Yang will become, Oct. 1, vice president and general manager-Asia, coinciding with the retirement of Allen Tsaur from that position.
Business Achievements, with news of management promotions, corporate board appointments, and awards, runs each week. Send announcements by email to business@theblade.com or by fax to 419-724-6147. Write "Business Achievements" in the message field.
CALENDAR
■ The Toledo Club Toastmasters will meet at 7 a.m. Friday on the fifth floor of the Toledo Club at 14th Street and Madison Avenue, downtown Toledo. Open to the public and free. For more information, go online to toledoclub.toastmastersclubs.org.
Notice of business meetings must be received by The Blade 10 days before the event. Email items to business@theblade.com or fax to 419-724-6147. Write "Business Calendar" in the message field.
CONVENTION
Listings include organizations, headquarters, and number of attendees expected as estimated by Destination Toledo:
■ Friday-Saturday — Special Olympics of Ohio State Softball Tournament, various properties/​Oregon Recreation Center, 700, state.
PATENTS
The following U.S. Patents were granted to inventors in Lucas, Fulton, Wood, Lenawee, and Monroe counties and published in the Official Gazette of the Patent and Trademark Office during July, 2018. For more information call the Toledo-Lucas County Public Library, Business Technology Department at 419-259-5209.
#10,017,142: Filtration of acoustic contaminate from vehicle safety sensors. Assigned to: Ford Global Technologies LLC, Dearborn, Mich. John W. Jensen and Mahmoud Yousef Ghannam, Canton, Mich.; Howard Churchwell, Monroe; John Vincent Fazio, Dearborn, Mich., and Lirjon Llusho, St. Clair Shores, Mich.
#10,017,941: Board with preapplied sealing material. Assigned to: Owens Corning Intellectual Capital LLC, Toledo. Timothy Robert Clancy, Swanton; John Frank Budinscak, Wadsworth, Ohio, and Lee John Burlingame, Toledo.
#10,018,145: System and method for in-cylinder thermal energy recovery and controlling cylinder temperature. Assigned to: Ford Global Technologies LLC, Dearborn, Mich. Quazi Ehtesham Hussain, Holland, Ohio.
#10,024,488: Three-beam construction apparatus. Assigned to: Wurtec Inc., Toledo. Steven P. Wurth, Sylvania, and Terry Rodebaugh, Whitehouse.
Guidelines: Please keep your comments smart and civil. Don't attack other readers personally, and keep your language decent. Comments that violate these standards, or our privacy statement or visitor's agreement, are subject to being removed and commenters are subject to being banned. To post comments, you must be a registered user on toledoblade.com. To find out more, please visit the FAQ.