Christmas has come early for workers hoping to score some extra money via a seasonal job this holiday period.
The push to hire seasonal help is underway with many employers having increased their needs from past years. That has opened up multiple opportunities for workers interested in a seasonal job.
But with an unemployment rate that's been dropping the last several years and nearing historic lows, that has created huge problems for employers needing seasonal help. Some have responded by increasing wages, others have begun offering additional perks usually reserved for full-time workers.
Best Buy Co., for example, held a job fair last week to recruit 100 general warehouse workers and merchandise processors for its distribution center in Findlay in anticipation of growing e-commerce this holiday season. The retailer is paying up to $16.20 per hour, but it also will give seasonal workers "an excellent employee discount" for use on store merchandise.
"One hundred is really just a start. We're looking at about 400 jobs overall," John Vomhof, Jr., a spokesman for Minneapolis-based Best Buy, said. "We'll be continuing to hire in the weeks ahead and that will be some partnering will local temp agencies to bring us up to 400."
"The men and women at the distribution center, they're the unsung holiday heroes. They make sure the shelves are stacked," Mr. Vomhof added.
But like many companies, Best Buy will be recruiting from a shrinking pool of unemployed workers.
In Ohio the unemployment rate was down to 4.6 percent in July from 5.7 percent in July, 2014. The July rate was 6.2 percent and 5.5 percent in Toledo and Lucas County, respectively.
In Michigan the jobless rate was 4.3 percent in July, down from 7.2 percent five years ago. In Monroe, Lenawee, and Hillsdale Counties, the July rate was 4.9, 5.4, and 4.9 percent, respectively.
Most economists believe when the jobless rate drops to 4.7 percent or below an area is at full employment.
And Best Buy is not the only company swimming in that smaller employment pool.
United Parcel Service is looking for about 850 seasonal employees — part-time package handlers, full-time driver helpers and full-time delivery and/or tractor-trailer drivers — this year to fill staffing needs at its hub in Maumee.
It will offer wages of $10.35 to $18.75 an hour depending on the job and 35 percent of its seasonal hires usually get offered permanent jobs. Permanent part-timers get offered tuition reimbursement as a perk, said spokesman Dan McMackin.
FedEx Ground is still finalizing how many seasonal hires it will need at its Perrysburg Township hub, but a spokesman said the delivery service expects to add more than 50,000 workers nationwide in the lead-up to its holiday peak season, with a majority of those added to FedEx Ground.
Other retailers that operate in the Toledo area and have disclosed their national seasonal hiring targets (but not their local numbers) include Macy's, 80,000 workers; Target, 120,000; J.C. Penney, 18,000, and Michael's Stores, 15,000.
In June, J.C. Penney announced it would hire 300 temporary cashiers, sales help, stockroom personnel, and beauty consultants to augment its Ohio stores during upcoming summer back-to-school sales. The seasonal hires were offered a full employee discount of up to 25 percent and flexible scheduling.
Michael Veh, Lucas County's director of business and workforce services at the Lucas County Department of Planning and Development, said J.C. Penney might have been planning for beyond the back-to-school period.
"That might have been a strategy to tie into people and have them ready for when they need (holiday) seasonal help," he said.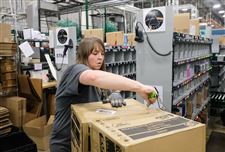 Angela Thorp processes multi orders at the Best Buy Distribution Center Thursday in Findlay.
THE BLADE/JEREMY WADSWORTH
Enlarge | Buy This Image
The last three years have been rough on employers seeking seasonal help, Mr. Veh said. "They're running into big problems in that they just can't find the people they're looking for," he added. In response, some are finding ways to retain seasonal employees throughout the year by having them work one day a month to remain on the company's active payrolls.
"My son had a seasonal job at (apparel retailer) J. Crew. As long as he works one day a month at any J. Crew, he can work there for the holidays. It's a creative way to hang onto help," Mr. Veh said.
Outplacement firm Challenger, Gray & Christmas said this past week that retailers have stepped up their efforts to find workers, given the tighter labor market.
"Retailers have been aggressively hiring seasonal workers since July to combat the tight job market. This holiday season will be a good time for workers who have had trouble finding employment or those who are discouraged or marginally attached to the labor force, as retail, transport, and warehousing jobs will be plentiful, Andrew Challenger, vice president of Challenger, Gray & Christmas, Inc., said.
Last year, seasonal retail employment increased by 668,400 during the final three months of the year, about 4.3 percent higher than 2017, the federal Bureau of Labor Statistics reported.
"Seasonal jobs are no longer in retail alone. With the rise of online shopping, transport and warehousing companies are also looking for seasonal workers. We've seen this trend over the last few years, Mr. Challenger said.
He added that retailers will have to offer competitive wages and other perks to attract the workers they need for this holiday season. Some already are offering discounted merchandise or special shopping days for their employees, Mr. Challenger said.
Stefan Midford, president and CEO of Capango, a mobile-first retail job matching platform that connects job seekers with job offers, said the company developed its new job matching software primarily because the labor market for retail has gotten so tight.
"You're certainly going to have a challenge finding workers in (the Toledo area)," Mr. Midford said. "The city unemployment rate doesn't sound as bad as the county rate and both are better than the state rate."
But even for entry-level jobs, "When the economy is as good as it is now, even that entry-level market tightens up considerably," Mr. Midford said.
At Capango, Mr. Midford said experts there have recognized that with a tighter labor market a company cannot do what it did before — seek a resume, fill out application, go through evaluations, etc.
"You have to be amazingly fast now and respond to applicants quickly. They've got options on where they want to work so speed is important," Mr. Midford said.
Mr. Midford said resumes are no longer relevant to getting a job in retail, so Capango has dispensed with them.
Instead, it categorizes job applicants through a series of 15 questions designed to characterize a potential employee.
"Some employers think recruiting is all about pay and salary increases. We disagree," Mr. Midford said. "We think it's about finding employees passionate about what they do and we find that some will take jobs they're interested in even if it's for less money."
Mr. Midford said the website asks seasonal retail applicants what areas of a store they'd like to work in, do they prefer days, nights, weekends, contact with consumers or in the back end of a store, a company employee or a private contractor.
"Once we get those answers I can go to an employer and I can tell them right away, 'Here's four people you should talk to,'" Mr. Midford said.
"This year clearly is going to be the toughest year for recruiting that we've seen in a decade. There's no doubt about it," Mr. Midford said. "Anybody who thinks they can win simply by paying a quarter more than the guy across the street is going to lose."
Contact Blade Business Writer Jon Chavez at jchavez@theblade.com or 419-724-6128.
Guidelines: Please keep your comments smart and civil. Don't attack other readers personally, and keep your language decent. Comments that violate these standards, or our privacy statement or visitor's agreement, are subject to being removed and commenters are subject to being banned. To post comments, you must be a registered user on toledoblade.com. To find out more, please visit the FAQ.