Advantage, Meijer.
In the heated contest to win the hearts of area grocery shoppers, Meijer leaped to the forefront Thursday by announcing that its stores in Ohio and Michigan will immediately begin including beer and wine as part of the grocer's home delivery service.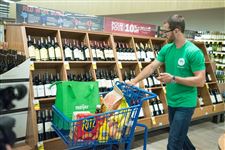 A Shipt personal shopper selects wine as part of a grocery order for a customer using home delivery.
Meijer stores Enlarge
Keith Rothstein, Meijer group vice president of merchandise services, said the retailer has been hearing from customers since last year, when it began home delivery through a partnership with Shipt delivery service, that it should include beer and wine.
"We've received an incredible amount of feedback from customers wanting to take advantage of our large selection of craft beers and wine," Mr. Rothstein said. "We think this enhances the level of convenience our home delivery customers in Ohio can enjoy and allows them to take more advantage of what our stores have to offer."
The new service has safeguards to keep underage youth from illegally obtaining beer and wine from Meijer.
Customers who order alcohol as part of their membership-based Shipt service must provide valid identification. Shipt's store shoppers will be 21 or older and certified to deliver alcohol. The personal shoppers will verify that a customer receiving groceries that include alcohol is at least 21 with a valid ID.
Now that Meijer has initiated beer and wine delivery in Ohio and Michigan, Mr. Bishop said it's only a matter of time before its competitors do the same.
"I really think it's 'Katy bar the door.' This home delivery thing is moving so fast it's hard to say what is next. And Amazon is still sitting out there," he said.
Meijer's move counters Kroger's decision last week to launch home delivery from 15 of its metro Toledo stores. Kroger now has home delivery, order and pickup at the store with its ClickList service, and Scan-and-Go inside the stores, which speeds up shopping by tallying a bill as a customer shops.
"Kroger's new Instacart partnership provides us with the opportunity to offer our customers delivery and when you combine this service with our successful curbside program, it will help us accelerate our e-commerce reach significantly," said Dan De La Rosa, president of Kroger's Columbus division, which includes northwest Ohio.
When it comes to alcohol, customers can place wine and beer orders for pickup later at Kroger stores and also at Walmart, which expanded its grocery pickup system on Thursday to include a fourth area superstore at 1355 S. McCord Rd. in Holland.
Kroger expanded its delivery options in Toledo rather quietly this week by launching without fanfare its new "Kroger Ship" service that allows customers to place orders online, choosing from more than 50,000 nonperishable items, then have the order shipped from a distribution center directly to their home.
However, Kroger, which is partnering with shopping service Instacart for its Toledo area home delivery, will not deliver alcohol to a home — although a spokesman for the Cincinnati-based grocery chain said the company "is looking into it."
For the moment, the ability to deliver beer and wine belongs solely to Meijer, based in Grand Rapids, Mich.
"They're not the first but I think they're in the new path of delivering alcohol to customers in the home," said grocery industry adviser Bill Bishop of Chicago-based consulting firm Brick Meets Click.
Mr. Bishop said some delivery services choose not to deliver alcohol and some aren't prepared to do so.
Yet the idea that all kinds of goods can now be delivered is something to which the customer is awakening. "The immediacy of something is becoming very important," he said. "The thing I hear is, 'You mean you can't deliver anything I want? Oh, that's disappointing.' "
Contact Blade Business Writer Jon Chavez at jchavez@theblade.com or 419-724-6128.
Guidelines: Please keep your comments smart and civil. Don't attack other readers personally, and keep your language decent. Comments that violate these standards, or our privacy statement or visitor's agreement, are subject to being removed and commenters are subject to being banned. To post comments, you must be a registered user on toledoblade.com. To find out more, please visit the FAQ.