Home
→
Sports
→
College
---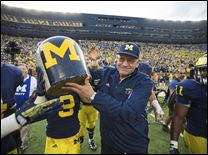 UM employee enjoyed unique look at …
40-year equipment manager saw great, dubious moments.
BGSU blows out Ball State
Falcons finish the regular season 9-3 (7-1 MAC).
Pioneers went north to be Michigan …
Ohio natives were always crossing border.
---
More College→
Matt Markey
Daughter's hunting skills make dad proud
Father watches daughter bring in a 10-point buck near Gibsonburg.
Dave Hackenberg
Dirty laundry at Ohio State
Postgame quotes reveal a team in disarray.
Dave Hackenberg
MSU deserves win, OSU the loss
The Buckeyes, for the first time in a long, long time, went belly up.