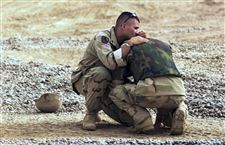 U.S. military police officer Brian Pacholski comforts his hometown friend, U.S. military police David Borell, both from Toledo, Ohio, at the entrance of the military base in Balad, about 50 kilometers (30 miles) northwest of Baghdad, Friday, June 13, 2003. Borell broke down after seeing three Iraqi children who were injured while playing with explosive material.
associated press Enlarge
It was an image both sad and moving, reassuring yet troubling: two U.S. military police officers huddled in an embrace in the hot, dusty terrain of Balad, Iraq.
It was June, 2003, just three months after U.S. forces had invaded Iraq, and Sgt. David Borell, a Toledo native, was disgusted that his government, his military, had refused to treat three Iraqi children who'd been burned, apparently from an improvised explosive device they'd found.
He lashed out at the two doctors who seemed to show such a lack of concern, prompting his platoon sergeant, Toledoan and Sgt. Maj. Bryan Pacholski, to suggest they take a walk. He offered a comforting embrace, not knowing an Associated Press photographer saw them and snapped their picture.
"I'm the kind of leader that leads with passion and his heart on his sleeve, and the only thing I could do at that moment was hug the guy," Sergeant Pacholski recalled. "There are no words. You're in the Army's world, and they have their reasons for what they do."
As the country marks Veterans Day some eight years after the iconic image appeared in newspapers everywhere, Mr. Borell still gets riled up when he remembers that day.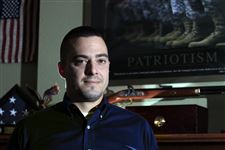 David Borell in his Maumee home.
The Blade/Andy Morrison
Enlarge | Buy This Image
"Marcy Kaptur brought up the point that we were there to teach these people something about America and something about what we stand for, and what did we just teach these little kids when we said, 'We can't help you?' " he asked.
Mr. Borell left the Ohio Army National Guard in 2006, but he's far from anti-military. A recent graduate of the University of Toledo law school, he works as a network administrator for Rudolph/Libbe Cos. and has started a part-time law practice. He's also planning to apply for a commission with the legal arm of the Ohio National Guard, the Judge Advocate General Corps.
The military, he said, has a way of keeping its arms around you.
"You grow into the military. No one is right for the military out of the gate," said Mr. Borell, 38, who along with his twin brother enlisted at 17 during their junior year at Sylvania Southview High School. "I learned the principles of who I am during the military. They taught me self-discipline. They taught me respect for doing good work -- all those lessons your parents tried to teach you that you ignored."
Sergeant Pacholski -- now an operations sergeant major with the Columbus-based 437th Military Police Battalion -- said much the same.
"I love being a soldier and I think it's the greatest thing that ever happened in my life," he said during a telephone interview from Cabo San Lucas, Mexico, where he now makes his home with his wife and two young children.
Like Mr. Borell, he said he wouldn't be where he is today without his 21 years in the military. He sells real estate in the resort area where he lives but flies to Ohio once a month for Guard duty.
Bryan Pacholski
"It's fulfilled every need I ever had," Sergeant Pacholski said. "I walk around today and I'm a civilian 90 percent of my life. I have a normal job. I wear the uniform only one weekend a month, but I very much identify myself as a soldier 24/7, everyday."
He enlisted in the U.S. Army at 17 soon after the death of his father, who had raised him as a single parent. While Mr. Borell joined with the idea of getting his college education paid for; Sergeant Pacholski said he entertained no such thought. He managed to graduate from Central Catholic High School and, in his words, was headed for trouble until he joined the Army.
"The military gave me a chance to try something different," he said. "It's given me family when I needed family. It's given me counsel when I needed counsel. It's given me discipline when I needed discipline. It's rewarded me when I needed to feel rewarded."
Both men were members of the Guard's Toledo-based 323rd Military Police Company when they shipped out for Kuwait and then Iraq early in 2003.
Sergeant Pacholski said until that deployment, the unit mostly had been sent to help with flood relief and other disaster assistance. They saw their role as helping people, and it was only natural that Mr. Borell would seek medical attention for the Iraqi family that drove up to the gate he was patrolling at the military base in Balad.
Mr. Borell said he was so angered when the Iraqis were turned away that he fired off an email that day to everyone in his address book, including The Blade. The resulting news story, coupled with the AP photo, grabbed attention throughout the Army and in Washington, but it didn't change the Army's stance about treating Iraqi civilians with nonlife-threatening injuries.
Mr. Borell said when he read that an Army doctor said that "isn't why we're here," he had just one thought: Why are we here?
"Maybe it was only one family, but we had the opportunity to show five Iraqis that this isn't some conglomerate of America with faceless, nameless evil or whatever you want to call it," he said. "This is an individual group of soldiers and if you need help, we'll help you. We had the opportunity to show them that and we chose another tact, and I think that was probably not the most well-thought out tact."
Both men say they have seen the image of their embrace "everywhere," used both tastefully and inappropriately.
"I kind of get annoyed when I see that picture come up anymore because I've seen that used in so many different veins," Mr. Borell said. "I've seen it used from anti-war email campaigns to support soldier Facebook postings."
The other day, he saw a poster about leadership skills that showed the photograph with the word "empathy" underneath.
Sergeant Pacholski sums it up like this: "It's a good picture of a bad day in Iraq."
He said people who saw it back home undoubtedly were moved because of the human side of soldiers it revealed.
"None of us are that hardened warrior that people think that traditional American soldiers are," Sergeant Pacholski said. "We were a group of guys from Toledo, Ohio, who were firefighters, policemen, janitors, and teachers. Some were unemployed. Some were students in college. We ended up in Iraq at the beginning of the war when everything was unknown. I think that picture just really tells that."
Neither Mr. Borell or Sergeant Pacholski said they ever thought U.S. troops still would be in Iraq nearly a decade after the 2003 invasion. Both said they are glad to know troops are to be withdrawn by year's end, though they're not sure the mission was accomplished.
"I hope we're leaving with an ally. I don't know if that's the reality," Sergeant Pacholski said. "I don't know if we've effectively built a friendship with the country. I know I built friendships as an individual."
Mr. Borell was less diplomatic. "There is a way to win a war and I think we weren't doing it right at the get-go," he said. "Whether the politics of it is right, wrong, or indifferent, the way that we were prosecuting the war, I think, was not happening correctly and that goes both to winning the hearts and minds and winning the tactical combat on the ground.
"You want to look back," he added, "and say we were there for this purpose and this reason and we did it and we accomplished it. I don't know if it's fair to say we did."
Contact Jennifer Feehan at: jfeehan@theblade.com or 419-724-6129.
Guidelines: Please keep your comments smart and civil. Don't attack other readers personally, and keep your language decent. Comments that violate these standards, or our privacy statement or visitor's agreement, are subject to being removed and commenters are subject to being banned. To post comments, you must be a registered user on toledoblade.com. To find out more, please visit the FAQ.