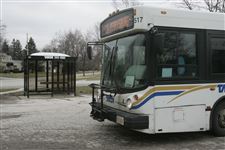 A provision inserted into Ohio's budget bill in 2011 gave TARTA members the right to vote on opt-out issues.
The Blade/Lori King
Enlarge | Buy This Image
Perrysburg voters approved a TARTA opt-out referendum Tuesday, making it the first community to leave the nine-member transit agency.
"I think we did a good thing tonight," said Perrysburg Councilman J. Todd Grayson, who advocated leaving TARTA. "I think it's important we severed a contract. This isn't so much as getting rid of TARTA as it is getting rid of a bad contract."
For Perrysburg officials, finding a way to pull out of TARTA was a discussion that had dragged out for years.
But a provision inserted into Ohio's biennial budget bill in 2011 gave the city — and the other eight TARTA members — a small window to put opt-out referendums on the ballot.
Before, a community needed the unanimous support from all the other Toledo Area Regional Transit Authority members, which are Toledo, Sylvania, Sylvania Township, Rossford, Ottawa Hills, Maumee, Spencer Township, and Waterville.
Rossford has hired a transportation consultant to help design a replacement plan to TARTA but has not yet taken the issue to voters.
RELATED CONTENT
Several Perrysburg residents said Tuesday that they voted against TARTA because they felt the service wasn't utilized and was too expensive.
Perrysburg, which pays about $1.5 million a year in property taxes for the bus service, has been a member of TARTA since 1974.
Voter Jonn Appold, 50, questioned whether the region needs public transportation because he often saw empty buses on the roads. "It's not really effectively run," Mr. Appold said.
In 2011, 66,861 TARTA passengers rode in Perrysburg, which included 55,860 using Call-A-Ride and the fixed bus line, 6,061 for TARPS, a service for people who are disabled or elderly, and 4,940 on shuttles to Mud Hens or Walleyes games, according to TARTA.
As to the future of public transportation in Perrysburg, city council hired a consultant last month to design an alternative transit plan with the goal of placing it on the Nov. 6 ballot, and, if approved, operating it by Jan. 1.
Poll workers Stephanie Hennigan, left, Diane markham, and Mary Kurtsz assist voters in Perrysburg, where city council hired a transit consultant last month.
The Blade/Jetta Fraser
Enlarge | Buy This Image
By mid-April, the city will have details on how the alternative system could operate, Mr. Grayson said, adding that the city wants to hear from those who voted to stay in TARTA.
"Those folks are the advocates for TARTA, the people who really need TARTA," he said. "They're the people who will help make the new system really great."
Legally, TARTA could stop services to Perrysburg six months after the election results are certified.
State Rep. Randy Gardner (R., Bowling Green), who introduced last year's provision at Perrysburg's request, has vowed to introduce an amendment this spring to force TARTA to continue its bus service to the city for the rest of 2012.
In a letter addressed to TARTA, he accused the transit agency of "taxation without transportation" because the city already paid about $375,000 in property taxes to cover October through December, when the city is to lose its bus service.
But Francis Frey, vice president of the TARTA board, said that contrary to Mr. Gardner's letter, the transit authority has no latitude to continue providing service to a withdrawing community after the statutory six months expires.
"It's sad that Mr. Gardner doesn't understand his own legislation, or the gaps created in his rush to get this thing through the legislature," Mr. Frey said at a TARTA meeting Thursday.
"We didn't create the problem. We are not responsible, in my opinion, for fixing it."
Contact Gabrielle Russon at:
grusson@theblade.com or
419-724-6026.
Guidelines: Please keep your comments smart and civil. Don't attack other readers personally, and keep your language decent. Comments that violate these standards, or our privacy statement or visitor's agreement, are subject to being removed and commenters are subject to being banned. To post comments, you must be a registered user on toledoblade.com. To find out more, please visit the FAQ.