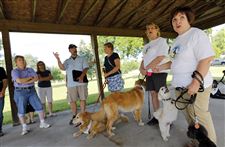 Tina Yoppolo, right, president of Toledo Unleashed, and Sue Joseph, second from right, treasurer, answer questions from about 15 people at Thursday's meeting.
THE BLADE/ANDY MORRISON
Enlarge | Buy This Image
With her two small dogs in her arms, Toledo Unleashed president Tina Yoppolo stood beneath a pavilion at Woodsdale Park, talking to community members Thursday night about the off-leash dog park her organization plans to bring to the area as soon as possible.
Ms. Yoppolo addressed noise, waste, and other issues at the neighborhood meeting, which lasted an hour and was attended by about 15 people.
Toledo Unleashed, a group that promotes chances for dogs to socialize and to be safely off their leashes in the Toledo area, has been planning the park since 2009. The former site of the South Toledo YMCA, near the Anthony Wayne Trail in Woodsdale Park, will be used for the facility.
The organization submitted an application for a special-use permit for a four-acre parcel at the site in June. The city has sent the group a draft lease permit and the request will go before the city's planning commission Aug. 8. If approved, it would go to the council's zoning and planning committee on Sept. 11.
No date has been set for the opening. The park's cost, estimated to be about $65,000, will be paid for through fund-raising efforts and private donations, Ms. Yoppolo said.
The city owns the land and plans to lease it to Toledo Unleashed for $5 for five years.
During the meeting, a neighborhood resident who later declined to identify herself to a Blade reporter, expressed concerns about safety issues related to the park.
She said she was worried about an increase in area traffic, deer that wander the area, and an increase in potential nighttime activities at the park, such as theft.
"You'd be surprised what goes on in here overnight," the woman said.
Sue Joseph, a member of Toledo Unleashed, assured the woman that the dog park only will be open from sunrise to sunset. Residents who buy a membership pass will have to scan a key card, which will be recorded on a computer system. Each time a member checks into the park there will be a record, she said.
Ms. Yoppolo said residents and visitors are urged to call the police if they see anything that concerns them.
Toledo Councilman D. Michael Collins, who attended the meeting to hear the concerns, predicted that establishing a dog park here will create a trend that will be replicated elsewhere.
"I believe that this is a true value added to the city of Toledo," said Mr. Collins, who added that he owns a golden retriever.
Denny Garvin, commissioner of the city's division of parks, recreation, and forestry, also attended. He said the city has never had a dog park and after seeing the parks in other communities, he said they are popular community places.
Residents also voiced concerns about privacy fences and membership costs.
Ms. Yoppolo said a membership for one dog for one year will cost between $35 and $50. Toledo Unleashed board members have yet to determine the exact cost.
All dogs that use the park must have licenses, appropriate vaccinations, and tests. They also are required to be spayed or neutered, and owners must prove all information before they are granted membership, she said. There will be two separate parts of the park: one for smaller dogs and another for larger dogs.
Ms. Yoppolo said her group is committed to making the facility a success without upsetting the neighborhood.
"We are going to work so hard to make this park a gem," she said.
Contact Kelly McLendon at:
kmclendon@theblade.com,
419-724-6522, or on
Twitter @KMcBlade.
Guidelines: Please keep your comments smart and civil. Don't attack other readers personally, and keep your language decent. Comments that violate these standards, or our privacy statement or visitor's agreement, are subject to being removed and commenters are subject to being banned. To post comments, you must be a registered user on toledoblade.com. To find out more, please visit the FAQ.