Model Cay Stout models an outfit during the fund-raiser for Sparrow's Nest at The Pinnacle in Maumee. The event featured financial, health, and other experts, and a fashion show.
THE BLADE/LORI KING
Enlarge | Buy This Image
Dr. Kamala Tamirisa wanted to support a local women's shelter, a program about which she's passionate, but she didn't want to plan another fancy fund-raiser.
Instead Dr. Tamirisa, who practices with Northwest Ohio Cardiology Consultants in Toledo, organized a half-day event Saturday at The Pinnacle in Maumee featuring a panel of financial, health, and other experts; auctions; a fashion show, and a keynote address by the author of Army Wives: The Unwritten Code of Military Marriage.
Her goal for "The Woman in Me, the Women in My Life" event is to raise $20,000 for Sparrow's Nest, a Toledo women's shelter operated by Cherry Street Mission Ministries.
"I just thought, I don't want to do a ball-gown-type of an event because we have so many of them," said Dr. Tamirisa, who planned the benefit with other volunteers and hopes to make it an annual happening.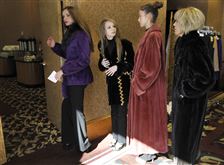 From left, models Samantha Perkins, Melinda Dorring, Kelsey Lewandowski, and Mary Lou Falzone wait to model coats by Roth Furs during the benefit.
THE BLADE/LORI KING
Enlarge | Buy This Image
About 160 people, mostly women, attended the event, which included educational information and speech by author Tanya Biank, whose work inspired the popular Lifetime television show Army Wives.
"They have fun, they donate, they feel good at the end of the day," Dr. Tamirisa said.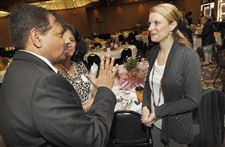 Abhay and Vandita Prasad speak to best-selling author and speaker Tanya Biank, right, during the fund-raiser for Sparrow's Nest at The Pinnacle.
THE BLADE/LORI KING
Enlarge | Buy This Image
Ms. Biank of Fort Meade, Md., is a writer whose most recent book, Undaunted: The Real Story of America's Servicewomen in Today's Military, was published in February. She schedules most of her public engagements at events that support nonprofit organizations, adding that she participated in the local cause because "any event that empowers women is so important."
During a 30-minute keynote address, Ms. Biank shared stories about military women featured in her book and her struggle to write while juggling a move and being pregnant. She urged women to remain strong amid challenges.
"With determination and commitment and courage and, yes, even a few tears, you really can achieve even under the most difficult of circumstances," she said.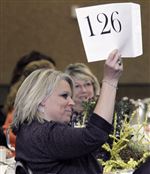 Stacie Bobo bids for a leather jacket during the auction.
THE BLADE/LORI KING
Enlarge | Buy This Image
Sparrow's Nest provides shelter for 63 to 90 women each night, and offers programs, vocational training, and recovery services, said Linda Cunning, vice president of philanthropy for Cherry Street Mission Ministries. The West Delaware Avenue facility is the region's largest women's shelter, and events such as this one help support its operation, she said.
"We are so humbled again by the support of our community. This makes me happy to live in Toledo," said Ms. Cunning.
Ericka Moore of Sylvania said she attended the event in part because her sister helped to plan it, and because as a labor and delivery nurse at Flower Hospital, Sparrow's Nest cause is close to her heart. She browsed some of the vendor booths during a mid-morning program break.
"It's a great program. It's a great resource for women who aren't able to be in their own homes, and it gives them a great stepping stone to ... get back into the community and sort of build their lives again," she said.
Contact Vanessa McCray at: vmccray@theblade.com or 419-724-6056, or on Twitter @vanmccray.
Guidelines: Please keep your comments smart and civil. Don't attack other readers personally, and keep your language decent. Comments that violate these standards, or our privacy statement or visitor's agreement, are subject to being removed and commenters are subject to being banned. To post comments, you must be a registered user on toledoblade.com. To find out more, please visit the FAQ.