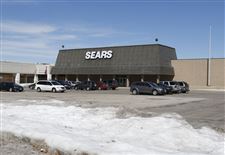 The Sears store at the former Woodville Mall in Northwood was the last retailer at the once-bustling mall. The store will close in July.
THE BLADE/JETTA FRASER
Enlarge | Buy This Image
The site of the former Woodville Mall will lose its last retailer this summer.
Sears Holdings Corp. said Monday it plans to close its store at 3725 Williston Road in Northwood later this year. An exact date wasn't provided, but a company spokesman told The Blade that the store would be closed by mid-July. A liquidation sale is set to begin April 25.
Sears has been the last holdout at the the once-bustling Woodville Mall.
Toledo's first shopping mall, the property opened in 1969 as one of the largest enclosed malls in Ohio. However, by the middle of last decade, the mall was struggling.
PHOTO GALLERY: Demolition of former Woodville Mall continues
As time wore on and tenants left, the mall slipped into disrepair. One anchor store, Elder-Beerman, closed in 2009.
By the end of 2011, the mall was closed. The Andersons Inc. closed its attached general store there early in 2013.
A Wood County judge ultimately ordered the leaky, asbestos-ridden property be demolished. Construction crews are now razing the mall.
Sears officials said Monday that was one reason the company decided to pull out of the area.
"The mall owner, after discussions with the city of Northwood, is currently causing the mall to be demolished, without any plans for redevelopment. Therefore, the Sears store, which is attached to the mall, will be closed as well," company spokesman Howard Riefs said in a statement to The Blade.
Mr. Riefs said the store in Northwood employs 36 people, most of whom are part-time. The company said employees will have the opportunity to apply for open positions at other area Sears or Kmart stores. Some will be eligible for severance.
Though the Sears store is connected to the mall, it is a separate property. Mr. Riefs did not return a message asking about the future of the property.
News of Sears closing the store was not unexpected.
"It's always been a wonder why they were still open. With the mall closing and all the other stores there closing, it had to be a tough thing," Northwood City Administrator Bob Anderson said.
He said Northwood city officials were aware of Sears' plans to close. While not surprising, Mr. Anderson said it's still disappointing.
"We'll be losing some income tax revenue and some other revenue, and we hate to see a business like that fail, because it brings people who spend money at other businesses," he said.
Sears had been the only remaining retailer at the site since The Andersons closed.
Sears has also been trimming the number of stores it has across the United States.
"Store closures are part of a series of actions we're taking to reduce on-going expenses, adjust our asset base, and accelerate the transformation of our business model," Mr. Riefs said. "These actions will better enable us to focus our investments on serving our customers and members through integrated retail — at the store, online, and in the home.
A recent report from Cowen & Co. predicted Sears Holdings could close another 500 stores between Sears and Kmart.
Real estate experts say the area along Woodville Road has struggled to keep and attract retailers who wonder how many customers they'll be able to draw.
"It's really all about geography," said Pete Shawaker, a commercial broker with Reichle Klein Group. "The population has continued to move west and the retail has continued to move west."
Mr. Shawaker is the listing agent for the former Elder-Beerman store at Woodville Mall.
Many of the area's other retail areas are seeing signs of revival, but Woodville Road is not. Though easily accessed from I-280, Mr. Shawaker said that highway doesn't carry the same traffic that I-475 does, because I-475 connects the city's western suburbs.
"In my opinion, I can't see big boxes going back out there," Mr. Shawaker said. "What you're going to have is charter schools, churches, alternative uses."
Sears has one other store in Toledo, at the Westgate Village Shopping Center. It also has a Sears Outlet store in Perrysburg that will relocate to Springfield Township next month, and Sears Hometown stores in Bowling Green, Tiffin, Bryan, and Adrian.
Contact Tyrel Linkhorn at tlinkhorn@theblade.com or 419-724-6134 or on Twitter @BladeAutoWriter.
Guidelines: Please keep your comments smart and civil. Don't attack other readers personally, and keep your language decent. Comments that violate these standards, or our privacy statement or visitor's agreement, are subject to being removed and commenters are subject to being banned. To post comments, you must be a registered user on toledoblade.com. To find out more, please visit the FAQ.