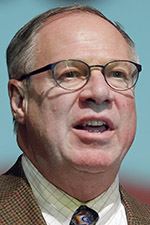 Toledo Mayor D. Michael Collins
THE BLADE
Enlarge | Buy This Image
WASHINGTON — Ken Leslie formerly was homeless, but his efforts to help others find places to live landed him an invitation to the country's best known residence — the White House.
Leslie
Mr. Leslie and Toledo Mayor D. Michael Collins were among municipal and community leaders from 80 cities who attended First Lady Michelle Obama's summit Wednesday to end military veteran homelessness.
Mr. Leslie and Mr. Collins said they were invited because of Toledo's comprehensive efforts to help veterans by bringing together resources of social service agencies, nonprofits, and private businesses to address multiple needs related to homelessness.
The heart of Toledo's success is 1Matters, an organization Mr. Leslie founded in 1990 as the Homeless Awareness Project.
Recently, he expanded it to include a division called Veterans Matter that now operates in six states through partnerships with social service agencies, individual donors, and prominent musical artists — including John Mellencamp, Dusty Hill of ZZ Top, and Kix Brooks of Brooks and Dunn — who loaned their voices to the cause.
Government programs offered veterans help with vouchers for rent, but many couldn't use them because they had to first come up with security deposits that were out of reach.
Mr. Leslie's program fills the gap.
Using electronic banking and cloud computing, the deposits are transferred directly to landlords within minutes, Mr. Leslie said.
The program has provided security deposits for veterans in Ohio, Massachusetts, Washington, Texas, Michigan, and Indiana.
Now he wants to expand to other states.
"That's why we're at this summit — to figure out what our target regions are," said Mr. Leslie, a former stand-up comic who lived on the streets until he overcame addictions to drugs and alcohol in 1990.
Four years later, he became CEO of an executive search firm for technology companies.
"All of us in D.C. today believe the only way we can solve this problem is together," he said.
That was the First Lady's message too in prepared remarks.
"We can't just throw up our hands and say this problem is too big for us because the truth is, it's not," Mrs. Obama told mayors and community leaders.
"This problem isn't too big for us to tackle."
She encouraged mayors to challenge each other to be the first in their state or their region to end homelessness for veterans.
"These leaders are best equipped to tackle this challenge because they know their communities inside and out, and they're in touch with service providers who know these veterans by name. They aren't just going to address veterans' homelessness in their cities; they're going to end it," Mrs. Obama said.
"This isn't just the right thing to do for our veterans; it's also the right thing to do for their budgets," she said.
One chronically homeless person can cost communities $30,000 to $50,000 a year in emergency room visits, medical care, and law enforcement resources when housing would cost only about $20,000, Mrs. Obama said.
Mr. Collins said Toledo is on board and already has reserved a portion of beds in homeless shelters for veterans.
"Our goal is to move them into regular housing and we're using all of our social service agencies, all of our resources, to do that," he said. "We're doing it from a holistic approach to meet all the challenges veterans face. We're providing counseling, [housing] vouchers, and employment."
Acting Director of Veterans Affairs Sloan Gibson also addressed the mayors in brief remarks just days after replacing Eric Shinseki, who resigned over a scandal involving false record-keeping and long wait times at V.A. medical centers across the country.
Mr. Gibson acknowledged systemic problems and said that fixing them is a top priority.
He quickly shifted his remarks to the subject of veteran homelessness, calling it one of his agency's toughest challenges.
"We can't do it on our own. It's a challenge that requires close collaboration among federal, state, and local governments and community groups," he said.
The Block News Alliance consists of The Blade and the Pittsburgh Post-Gazette. Tracie Mauriello is a reporter for the Post-Gazette.
Contact Tracie Mauriello at: tmauriello@post-gazette.com, 703-996-9292 or on Twitter @pgPoliTweets.
Guidelines: Please keep your comments smart and civil. Don't attack other readers personally, and keep your language decent. Comments that violate these standards, or our privacy statement or visitor's agreement, are subject to being removed and commenters are subject to being banned. To post comments, you must be a registered user on toledoblade.com. To find out more, please visit the FAQ.