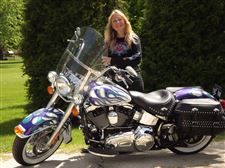 Becky Brown, founder of the women's motorcycle club called Women in the Wind, started the club 35 years ago in Toledo. Ms. Brown has been inducted into three motorcycle halls of fame.
The roads between Perrysburg and Waterville will roar to life as hundreds of women ride into town on their motorcycles for Women in the Wind's 35th anniversary events.
Women in the Wind is an all-female motorcycle club founded in Toledo that now has more than 100 chapters in countries throughout the world, including Australia, Canada, and England.
To celebrate its 35th year, the club is having what Toledo chapter president, Lisa Taylor, of Martin, Ohio, called "a whole riding weekend."
Women from chapters across the country, such as San Diego and southeast Florida, are riding their motorcycles to the Perrysburg Holiday Inn French Quarter. On Thursday, the women will gather for a hog roast dinner.
Then, on Friday, they will ride. Mrs. Taylor said the group of about 250 women will have a police escort from the Holiday Inn to Providence Metropark in Waterville.
Becky Brown of Oregon, and the founder of the group, said that on Saturday there will be meetings and seminars, one of which will focus on safety.
"We really emphasize motorcycle safety," Ms. Brown said. "We have a national safety contest and every member gets a pin for every safe year they ride."
With 35 years under its belt, this club, which has roughly 1,400 members worldwide, looks back to its beginnings.
Ms. Brown never intended to create a female motorcycle club. "I got my first bike in 1976," she said. It was a Honda 350 4-cylinder.
"I had a lot of male friends who rode and I thought there'‍s no reason I can't do it, too," she said. The problem, she said, was that she did not know any women who rode motorcycles.
In 1979, she decided to put an ad in The Blade seeking any interested female motorcycle riders to join her for a ride along the Maumee River.
"We had nearly a dozen women for that first ride," Ms. Brown said. Soon, Ms. Brown assembled her small group of women into a thriving club. As she humbly puts it, "It spread and just kept spreading."
WITW is now the largest women'‍s motorcycle organization of its kind.
As the club transformed into such an international success, Ms. Brown garnered some well-deserved recognition. She was a subject of a documentary directed by Alice Stone that was released in 1995 titled She Lives to Ride. In 1997, photographer Annie Leibovitz traveled to Toledo to take photos of Ms. Brown and some other WITW members for her book Women.
Ms. Brown also has been inducted into three motorcycle halls of fame: the National Motorcycle Museum and Hall of Fame in Anamosa, Iowa in 2002, the American Motorcyclist Hall of Fame in Pickerington, Ohio in 2002, and the Sturgis Motorcycle Museum and Hall of Fame in Sturgis, S.D. in 2008.
Contact Kathleen Ashcraft at: kashcraft@theblade.com or 419-724-6050.
Guidelines: Please keep your comments smart and civil. Don't attack other readers personally, and keep your language decent. Comments that violate these standards, or our privacy statement or visitor's agreement, are subject to being removed and commenters are subject to being banned. To post comments, you must be a registered user on toledoblade.com. To find out more, please visit the FAQ.