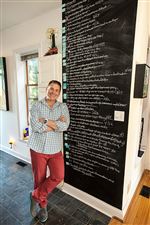 Gregg Dodd stands with his list of 2014 New Year's resolutions. Mr. Dodd woke up 365 days ago feeling inspired so he scrawled 52 items on a board with the goal of checking off an average of one each week.
RAY LaVOIE Enlarge
Gregg Dodd is going to find it hard to top 2014.
The Toledo native and University of Toledo graduate spent the last year checking off items from his yearlong, 52-item "bucket list" with new experiences, athletic pursuits, and good deeds. With 2014 in the rearview mirror, Mr. Dodd said the list, and the outpouring of support that followed, forever changed the way he thinks about goals and challenges.
Mr. Dodd woke up 365 days ago feeling inspired. On a kitchen wall covered in chalkboard paint, he scrawled 52 items, with the goal of checking off an average of one each week.
Some items were fairly mundane: grow a beard, take a cooking class, see a movie at a drive-in theater.
But others were more ambitious. He wanted to surf, sky-dive indoors, and stay up 24 hours in New York to see if it lives up to its reputation as "the city that never sleeps." For the director of marketing at Columbus Metropolitan Library, it was a year dedicated to new experiences.
"I constantly caught myself saying, 'Gosh I want to do that someday,' and someday turned into a week, a month, a decade," he said. "2014 was my year of someday."
He posted the list to Facebook and messages soon flooded his inbox. He heard from friends of all kinds: old friends, friends of friends, Facebook friends. In all, more than 200 people helped him complete his tasks in one way or another.
Mr. Dodd called the attention empowering and a way to be accountable to finish all 52. He chronicled his adventures, posting pictures tagged with the hashtag "#greggslist" on Facebook and Twitter. It got so popular, he inked "#greggslist" on his ankle and checked off getting a tattoo.
One of his last checkmarks was for No. 17, which required him to make someone's wish come true. With no other specifications, he waited to find the right story. Late last year, he learned about a single mother in Columbus who was struggling to make ends meet and couldn't provide a Christmas for her three kids. He posted her story on Facebook and in three days had received $5,000 in cash, gifts, and services. Shortly before Christmas, he brought over wrapped gifts, dinner, and a tree.
"It was a powerful experience," he said. "Of all of them, that's the one that will stay with me for the rest of my life."
A few tasks brought him back to his northwest Ohio roots. He grew up in West Toledo and is a Rogers High School graduate. His mother, four brothers, and dozens of nieces and nephews still reside in Toledo.
He retraced his steps at Camp Frontier in Pioneer, Ohio, where he spent many boyhood summers. In mapping out his family tree, he researched his roots in Toledo. Several of the donations for his Christmas project came from the area. And, as one of the few feats he said he'd never do again, he took a "one-and-done" ride on Cedar Point's Millennium Force roller coaster.
Mr. Dodd said many of the typical resolutions to lose weight, eat better, or save money happened as a by-product of his journey. Well, not the saving. He spent well over his $5,200 budget, at nearly $9,000, but said he doesn't regret one bit of it.
"This was the best year of my life, experience-wise," he said. The first thing to check off the list was growing a beard — completed Jan. 12. He squeezed in the last one with three days to spare on Sunday, when he completed 10 pullups on the set of "Good Day Columbus."
It appears his zest for life is contagious. Mr. Dodd said he knows of about two dozen people who have plans to create a list of some kind in 2015 after hearing about his. Friend Kelly Boggs, who met Mr. Dodd through the arts community in Columbus, has been following his progress.
"He invited people into his journey and shared it with people who would root him on," she said. "He asked, 'Who's in?' "
Throughout 2014, Ms. Boggs stashed note cards with ideas and interesting articles, now contained a file folder devoted to possible goals. In the days leading up to New Year's, she planned to refine those ideas into what will be her 2015 list.
As for Mr. Dodd, he's done with lists for now.
"My New Year's resolution is to not make resolutions this year," he said, laughing. He's ready to watch the unfolding journeys of those he has inspired.
"It's my turn to cheer them on," he said, adding, "If your list is one or 52 items, quit waiting for someday."
Contact Lauren Lindstrom at llindstrom@theblade.com, 419-724-6154, or on Twitter @lelindstrom.
Guidelines: Please keep your comments smart and civil. Don't attack other readers personally, and keep your language decent. Comments that violate these standards, or our privacy statement or visitor's agreement, are subject to being removed and commenters are subject to being banned. To post comments, you must be a registered user on toledoblade.com. To find out more, please visit the FAQ.