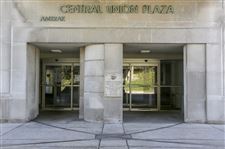 This year marks the 65th anniversary of the Martin Luther King, Jr. Plaza, also known as Central Union Terminal, at 415 Emerald Ave. in South Toledo. A ceremony and exhibit will mark the anniversary Tuesday.
THE BLADE/KATIE RAUSCH
Enlarge | Buy This Image
When Central Union Terminal opened in 1950, it was the hub of intercity travel in Toledo, with more than four dozen trains operated by four railroads originating, terminating, or stopping there on a typical day.
Today, the daily train count is just four, and for a time during the early 1970s it was zero.
But local officials, led by the Toledo-Lucas County Port Authority, staved off a proposal in the early 1990s to move Amtrak's local station into smaller, less costly quarters and renovated the boxy, glass-themed structure on Emerald Avenue instead.
On Tuesday, a ceremony and exhibit at the building known since 2001 as Martin Luther King, Jr. Plaza will mark its 65th anniversary. And next spring, it should regain its status as the busiest intercity public-transport facility in Toledo, when Greyhound moves its local bus station there.
"We do plan to move to the train station in the spring of 2016," Lanesha Gipson, a Greyhound spokesman, said last week after a port authority official said a tentative agreement had been reached with the bus line.
Joe Cappel, the port authority's vice president for business development, said the agency is still negotiating a new lease with Amtrak to complement the Greyhound lease, but action on both agreements could be taken at any of several upcoming meetings of the port's board of directors.
Port President Paul Toth and U.S. Rep. Marcy Kaptur (D., Toledo) are among those scheduled to speak during the anniversary event, which will run from 5 to 8 p.m. Tuesday with refreshments offered.
Among planned exhibitors are:
● Byron "Barney" Stickles, a former terminal agent and telegrapher with the Wabash Railroad, one of the four carriers whose trains used Central Union Terminal when it opened.
● The Toledo History Museum and Steve Rathke, a current railroad engineer, both showing items from Central Union Terminal memorabilia collections.
● The Northwest Ohio Passenger Rail Association, with information about efforts to promote passenger rail in the region.
● The Brotherhood of Locomotive Engineers and Trainmen, with an exhibit about rail labor past and present.
● Railroad artist Gary Cornell.
An exhibit of Blade photos from the station's 1950 dedication will be displayed, as will be model trains depicting the four railroads that served it: Wabash, Baltimore & Ohio, Chesapeake & Ohio, and its builder and largest user, New York Central.
An area also will be set aside for anyone who might have attended the original Sept. 22, 1950, dedication to record any stories or recollections they may have from that event.
"It's important to discuss the history of passenger trains, as well as the future of passenger trains and the importance of rail in our community," said Holly Kemler, the port authority's communications manager.
The last major city train station to be built by a private railroad company in the United States, Central Union Terminal's opening was followed within a few years by the passenger train's precipitous decline as travelers fled to competing airline service and, in even greater numbers, the burgeoning highway network.
In the Toledo area, both the Ohio Turnpike and Toledo Express Airport opened in 1955. When Amtrak took over most U.S. intercity passenger trains in May, 1971, the Interstate system here was nearly complete.
Amtrak initially did not serve Toledo, but Central Union Terminal survived as a division headquarters for the Penn Central Railroad, and Amtrak subsequently established its Lake Shore Limited route through the city, then shifted the Washington-Chicago Capitol Limited train to a Toledo routing, too.
In 1995, Penn Central successor Consolidated Rail Corp., which by then had vacated the division headquarters, sold the building to the port authority for $23,000. The port then embarked on a $5.5 million renovation that concluded with a Grand Reopening on Sept. 22, 1996.
The renovation included moving Amtrak's quarters to ground-floor space, while the original passenger area on the third floor was remodeled as office space and a public hall.
It also included building bus bays on the west side of the building, intended to accommodate Greyhound should it decide to move there.
But along with its reluctance to break its lease on its current Toledo station at 811 Jefferson Ave., Greyhound declared the bus bays unusable because they require buses to back out onto Emerald Avenue, which violates company practice.
Only Amtrak buses have used the bus bays.
Mr. Cappel said the current plan is for Greyhound buses to stop along Emerald in front of the station, which he said will require some minor alterations to the sidewalk. Inside, he said, remodeling will be needed to provide a ticket counter and office space for Greyhound.
"Cars won't be allowed to park in the [new] bus bays — we'll have to keep those clear," Mr. Cappel said, so people now dropped off or picked up in front of the station will have to do that elsewhere — most likely in the parking lot just east of the station.
Not necessary — at least for now, Mr. Cappel said — is demolition of a former parcel-handling building next to the station that was in the way of a previous proposed layout for the Greyhound bays.
Greyhound now offers 25 daily bus departures from Toledo, to Detroit, Cleveland, Chicago, Cincinnati, Columbus, Indianapolis, and beyond, Ms. Gipson said.
Besides promoting bus-train connections, moving Greyhound to the train station will establish round-the-clock activity in a facility that now is closed between mid-morning and late afternoon because Amtrak's Toledo trains all are scheduled to stop between 11:30 p.m. and 6:15 a.m.
"Right now, it's only used in the wee hours," Mr. Cappel said. "This will bring more activity, more people through the facility."
A more vibrant train-bus station will also support neighborhood revitalization that includes the recently built Toledo Area Regional Paratransit Service headquarters to the north and the Middlegrounds Metropark now under construction along the Maumee River to the east, the port official said.
Contact David Patch at: dpatch@theblade.com or 419-724-6094.
Guidelines: Please keep your comments smart and civil. Don't attack other readers personally, and keep your language decent. Comments that violate these standards, or our privacy statement or visitor's agreement, are subject to being removed and commenters are subject to being banned. To post comments, you must be a registered user on toledoblade.com. To find out more, please visit the FAQ.