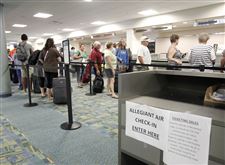 Passengers for an Allegiant Air flight wait to check in at Toledo Express. Falling fuel prices and a jump in Allegiant traffic have lifted the airport to its best year since 2009.
THE BLADE
Enlarge | Buy This Image
Passenger business grew for a third straight year at Toledo Express Airport during 2015, but Toledo-Lucas County Port Authority officials said Tuesday that the 1.9 percent increase was helped by several factors that may not be repeated this year.
Joseph Rotterdam, port authority manager of airport operations and airline affairs, said the 179,911 passengers in 2015 marked the "best year at Toledo Express since 2009."
The local airport recorded 176,545 travelers in 2014.
The growth was driven by a 10,111-passenger increase in business on Allegiant Air, which offers less-than-daily flights between Toledo and airports in Sanford, Clearwater, and Punta Gorda, Fla.
Allegiant's traffic was boosted both by a robust spring break travel season early last year, Mr. Rotterdam said, and by its decision to continue flying the Toledo-Florida routes during September and October.
In the past, those routes have gone on hiatus during the fall because of historically weak demand.
However, falling jet-fuel prices made the flights worth keeping last year, he said.
"This year, keeping Orlando [Sanford] flying ... was big for us," Mr. Rotterdam said. But if fuel prices "were to shoot up this summer, it puts that September flying at risk," he said.
Business on the Chicago flights of American Eagle, American's commuter affiliate and the only other scheduled airline at Toledo Express, declined 8 percent during the year and was down by more than 20 percent in December.
Mr. Rotterdam said American has pursued a "yield maximization" policy, meaning that it has kept fares relatively high on its Toledo flights even if that means seats go unfilled.
A letter from Bryan Casey, American's manager of domestic network development, stated "circumstances have not been optimal to this point" to expand routes, particularly after the merger with US Airways, completed in October.
The merger "required extensive time and resources over the course of the last three years, and the evaluation of currently served smaller markets by one or the other airline has been protracted," he wrote.
Mr. Rotterdam also reported during a port directors' airport committee meeting that the agency had obtained a one-year extension of a $750,000 federal grant awarded in September, 2011, to support new air service at Toledo Express.
So far, the port authority has found no takers for that grant, but American submitted a letter in support of the extension stating that such assistance would "greatly assist in building the business case for adding new service to one of our southern hubs, most likely Dallas-Fort Worth."
A letter from Mr. Casey to a U.S. Department of Transportation official made no promise of new Toledo service in 2016, however.
And Mr. Rotterdam said airlines have been careful about expanding despite declining fuel prices that have boosted their profits significantly.
"Wall Street still wants to see that really restricted growth," he told the airport committee.
Extension of the new-service grant, which includes a $250,000 local match plus marketing support and other incentives, "is a key to our continued interest in service expansion," he continued.
Ryan Moore, who operates a Toledo insurance business and keeps a private plane at the airport, said the $1 million grant isn't enough to compete.
"Other cities are paying $2½ million for a couple of flights a week to Dallas," he said. "For a market like Toledo, it's the only way you're going to get new service."
But Paul Toth, the port authority's president, said that "being in the shadow of Detroit," increasing the grant would be "a risky proposition for us" while also noting that noncash incentives that include waiving all airport-related fees and providing free ground handling during a startup period increases the offer's real value to $2 million.
"There really would be no investment [needed] for an airline to come here other than to put in a computer," Mr. Toth said.
Mr. Rotterdam said the former US Airways hub in Charlotte could be in play as a destination from Toledo.
Port officials have approached Allegiant, meanwhile, about adding a southeast Florida city such as Miami, Fort Lauderdale, or West Palm Beach to its list of Toledo destinations.
The usual response is that "competition is so fierce from Detroit" to those cities, Mr. Rotterdam said, "but we say there's the same level of competition to Orlando, yet Toledo does well there."
"The two requests we get the most are the east coast of Florida, and Las Vegas," he said.
Contact David Patch at: dpatch@theblade.com or 419-724-6094.
Guidelines: Please keep your comments smart and civil. Don't attack other readers personally, and keep your language decent. Comments that violate these standards, or our privacy statement or visitor's agreement, are subject to being removed and commenters are subject to being banned. To post comments, you must be a registered user on toledoblade.com. To find out more, please visit the FAQ.