Data detailing Toledo's demographics, land use, and businesses soon will be searchable in one spot.
The Jack Ford Urban Affairs Center at the University of Toledo on Monday announced the creation of ToledoView — an online, proprietary database where users can find economic, social, and educational information about the city and the surrounding area.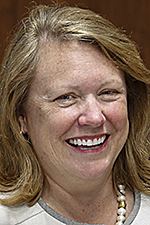 Gaber
THE BLADE
Enlarge | Buy This Image
The site will cull data from numerous sources, including age and income demographics from the U.S. Census Bureau's American Community Survey; land use and environment information from various Lucas County agencies, and details on agriculture, manufacturing, and retail businesses, among others. It will feature more than 70,000 data items, and officials are seeking suggestions on what additional information to include.
Subscribers or those who pay a fee will be able to select data from specific geographic areas, such as census blocks, neighborhoods, or city council districts.
UT officials envision the new site as a place where companies, nonprofits, and government agencies can access and analyze data to guide development and decisions, create policy, and conduct research.
University President Sharon Gaber described the database as unbiased, neutral, and reliable.
"I strongly support strengthening our relationship with the city of Toledo, with our broader community, and everything that we can do to enhance our community outreach and our relationships is greatly appreciated," she said, during remarks at a campus event introducing the resource to about 100 business leaders and elected officials.
The database is scheduled to launch April 1. During that month, anyone who requests a password can access the information from the urban affairs center website at uac.utoledo.edu or from the university's department of geography and planning website at utoledo.edu/​llss/​geography/.
Eventually, the urban affairs center plans to sell memberships to businesses and other entities who want to use the database. A subscription could cost roughly $15,000 to $25,000 a year, with the funds used to offset the center's estimated $200,000 annual expense to maintain the database, director Neil Reid said.
For clients who want to use the database less frequently, the center will offer limited access for a fee. Smaller data projects might cost a user about $100, with the price going up depending on the scope of the work, Mr. Reid said.
"Right now we are working to cover costs. It's difficult to say how successful it will be," he said.
The center used about $50,000 in state funds to develop the database so far, work that included paying graduate students to organize and input information.
The urban affairs center also plans to offer consulting, analytical services, and customized software training.
Bill Thomas, president of the Downtown Toledo Development Corp. and a member of the center's advisory committee, said a single database will bring uniformity to analyses by ensuring that users are looking at the same numbers when developing a project or proposal.
Contact Vanessa McCray at: vmccray@theblade.com or 419-724-6065, or on Twitter @vanmccray.
Guidelines: Please keep your comments smart and civil. Don't attack other readers personally, and keep your language decent. Comments that violate these standards, or our privacy statement or visitor's agreement, are subject to being removed and commenters are subject to being banned. To post comments, you must be a registered user on toledoblade.com. To find out more, please visit the FAQ.