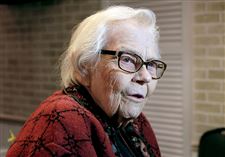 Nina McClelland received the National Wildlife Federation's 2016 Women in Conservation Award for a long career working with various agencies, with a focus on assuring access to safe drinking water.
THE BLADE/JETTA FRASER
Enlarge | Buy This Image
When Nina McClelland first worked for the city of Toledo in the 1950s, female employees were not offered locker rooms.
Times have certainly changed.
The 1951 University of Toledo graduate was honored by the National Wildlife Federation with the organization's Women in Conservation Award for her science and conservation accomplishments.
"Nina has had a stellar career in environmentalism, and she's been a phenomenal leader," said Greg Ely, a consultant at the National Wildlife Federation. "She's really excelled and made a great impact. She's effected long-lasting change in the political realm, in the environmental realm, and with various organizations — the American Chemical Society, the EPA. There are regulations that she helped enable. She will have a long-lasting legacy."
Ms. McClelland, 86, a longtime Toledo resident, has had a distinguished career that includes serving as a principal and consultant with the International Clean Water Program, a humanitarian program dedicated to providing health care, safe drinking water, good education, disease control, and other essential needs to developing countries.
Her work for the city focused on safe drinking water being processed at the water treatment plant, as well as protecting Lake Erie from environmental threats.
"I think it's wonderful. It's quite an honor," Ms. McClelland said. "I think [the public] could be very supportive of water issues and help us to avoid the bad repercussions of the Flint situation and this area. They can really happen anywhere. It all boils down to how good are the people who are monitoring it. We are very fortunate to have good minds and good people [in Toledo]."
Ms. McClelland received her bachelor's and master's degrees from UT in 1951 and 1963, respectively, and a PhD from the University of Michigan in 1968. She is currently an executive in residence at UT's college of business and innovation, and the dean emeritus and professor of chemistry in the college of arts and sciences.
During her career, she's worked with the World Bank, the United Nations, and the Environmental Protection Agency.
The National Wildlife Federation said it's important to honor women who have shown exceptional leadership and dedication to conservation and climate action. The organization cited Ms. McClelland's work to preserve clean drinking water around the world as critical to combating the scourges of climate change.
"She has been a shining light for women, but she's also been a shining light for us in terms of protecting the lake and making sure every time we turn on the tap, the water is safe to drink," said Mayor Paula Hicks-Hudson. "Today is a day of celebration for another feather and diamond in the crown for Dr. Nina."
Contact Kyle Rowland at: krowland@theblade.com, 419-724-6282, or on Twitter @KyleRowland.
Guidelines: Please keep your comments smart and civil. Don't attack other readers personally, and keep your language decent. Comments that violate these standards, or our privacy statement or visitor's agreement, are subject to being removed and commenters are subject to being banned. To post comments, you must be a registered user on toledoblade.com. To find out more, please visit the FAQ.