Editor's notes: This article has been corrected to say the reception with signed guitars and photos is Oct. 19, and that Sandler's unit was eventually sent to Vietnam.
Harry Sandler, one of rock 'n' roll's true Renaissance men, is putting his heart, soul, and sweat into helping Toledo-area homeless again.
His latest exhibit, "Harry Sandler: Images From a Photographic Journey," is at the Toledo School for the Arts Porter Gallery through Oct. 30. Proceeds will benefit Veterans Matter, the Toledo-based nonprofit housing military veterans in 12 states.
Prints of rock musicians and natural landscapes Mr. Sandler has photographed around the world are being offered for $175 to $650.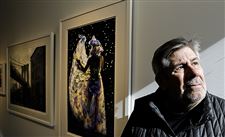 Harry Sandler's photos that are on display at the Toledo School for the Arts include famous rockers and landscapes.
THE BLADE/ANDY MORRISON
Enlarge | Buy This Image
A reception is scheduled for 6 to 9 p.m. on Oct. 19. Tickets are $25. Signed photos will be auctioned off, as will signed guitars from John Mellencamp and Phil Collen of Def Leppard, and tickets for an Oct. 21 meet-and-greet with Mr. Mellencamp at the Stranahan Theater, or any tour stop on the soon-to-be-announced Katy Perry tour, plus other items.
This is Mr. Sandler's third exhibit in Toledo since he met homeless advocate Ken Leslie several years ago. He's a veteran himself, serving in the U.S. Army from 1962 through 1964.
Mr. Sandler said he was discharged while in Korea. The unit he was with was eventually sent into Vietnam. He said his military service sticks with him because "so many people I knew died, and others came back so different."
His latest exhibit has stunning photographs of musicians such as Mr. Mellencamp and Ms. Perry, as well as Dr. John, Peter Frampton, Ron Wood, Bob Dylan, and The Who. They range from iconic shots of the 60s to 2009 American Idol runner-up Adam Lambert on a recent tour with surviving members of the rock band Queen, filling in as vocalist for the late Freddie Mercury.
Mr. Sandler has been a tour manager, photographer, truck driver, sound engineer, and jack-of-all-trades in a rock 'n' roll career that began in San Francisco in 1964. He is proud of being part of the Haight-Ashbury scene during San Francisco's Summer of Love in 1967. After leaving San Francisco in 1969, he spent an extended time in New York, where he freelanced photographs for $30 a pop during the early days of Rolling Stone, Circus, and Crawdaddy! magazines, and once baked brownies to help pay his rent.
He attended Woodstock and had a hand in producing the largest festival to follow it, the 1983 US Festival in Southern California. Mr. Sandler also is a painter. But even though he was described a few years ago in an online publication as "one of the top tour managers in the music business," he is best known for his photography.
In addition to musicians, his latest exhibit includes landscapes from Iceland, New Zealand, South America, Africa, the American West, and other parts of the world. They include photographs of the great annual migration of wildebeests in Africa two months ago and the Joshua Tree in California.
"I just feel like I've developed a vision on landscapes," Mr. Sandler said.
Now 72, he's still quite active. He spent more than two years on the road with Ms. Perry on her worldwide tour until deciding last September he'd had enough. His goal now is to settle down, get a master's degree, and pass along his knowledge to future generations as a teacher.
"More importantly, I want to photograph everything I have in my head before they put me in the big box," Mr. Sandler said with a laugh.
Mr. Leslie said it means a lot having someone of Mr. Sandler's caliber supporting Veterans Matters; its affiliated group, 1 Matters, and their biggest event, Tent City, an annual, weekend camp-out with the homeless scheduled for Oct. 21-23.
"And he's just fun to hang around with," Mr. Leslie said.
Contact Tom Henry at: thenry@theblade.com, 419-724-6079, or via Twitter @ecowriterohio.
Guidelines: Please keep your comments smart and civil. Don't attack other readers personally, and keep your language decent. Comments that violate these standards, or our privacy statement or visitor's agreement, are subject to being removed and commenters are subject to being banned. To post comments, you must be a registered user on toledoblade.com. To find out more, please visit the FAQ.