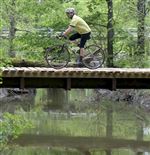 Blade reporter Mark Reiter rides over a bridge where about a dozen volunteers helped on Wednesday to put down planks on log rails to finalize the trail at Oak Openings Metropark.
THE BLADE/LORI KING
Enlarge | Buy This Image
Ten years ago, local options were few for single-track mountain bikers wanting to get an off-road experience.
That changed in 2010 when Jermain Park Mountain Bike Trail opened in West Toledo. With about seven miles of single-track, the urban trail near the Ottawa River satisfied most mountain bikers.
However, anything technical or challenging required a 60 to 90-minute drives north to Michigan for the Potawatomi Trail near Pinckney or the Island Lake State Recreation Area at Brighton.
That is about to change today when a new single-track trail in Oak Openings Preserve, north of the Wabash Cannonball Trail near Swanton, officially opens to the public.
The single-track — the first for the Metroparks of the Toledo Area — was built exclusively with the generous sweat-equity of volunteers. The roughly 5½-mile trail is the first phase of an extensive single-track system planned for the preserve in western Lucas County. Plans call for the trail to eventually extend into recently acquired Metropark owned land south of Swanton in Lucas and Fulton Counties.
PHOTO GALLERY: New bike trail at Oak Openings Metropark
VIDEO: New bike trail at Oak Openings Metropark
"We think this is going to be a big hit with mountain bike users," said Dave Zenk, the Metropark's director. "If you look around, there just are not many opportunities to ride single-track in our area. From everything we have learned about this trail, we believe we will have a draw of about a four-hour radius just because there are so few mountain bike and single-track trails in the area."
The trail is accessible from the Springbrook Picnic Area, 4600 Waterville-Swanton Rd., just south of Monclova Road. A short ride east on the north fork of the Wabash Cannonball Trail takes cyclists to the trailhead.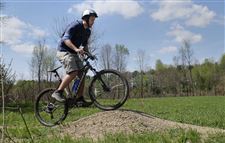 Nate Lingo of Waterville heads over an obstacle on the trail that was said to be designed with weaves and dips acceptable for the skills of youngsters and others just getting into the sport.
THE BLADE/LORI KING
Enlarge | Buy This Image
From there, they embark on a weaving ride through towering oaks, white-bark sycamores, and flowering dogwood and redbud trees, on long, undulating stretches and gradual turns, up and down hills and stream banks, and across boardwalk bridges. A curved ladder-plank bridge, obstacle bumps, and teeter-totter bridge test riding skills and bike-handling skills.
Construction on the trail began last summer, went into late fall as weather and terrain conditions permitted, and resumed in early spring. In all, more than 150 volunteers under the supervision of Metroparks staff showed up twice a week — Wednesdays and Saturdays — to donate more than 1,000 hours of their time to get the trail finished.
About a dozen volunteers showed up Wednesday to finalize work on bridges and complete details on the trail.
To plan the layout and design features for the trail, the Metroparks used the services of Kay-Linn Enterprises, a Boulder, Colo.-based firm that has created similar trails throughout the country.
Scott Linnenburger, owner of the trail design firm, met in February, 2016, with members of local cycling clubs and local bike shops to get input for the trail. He later worked with Metropark staff and volunteers to mark the single-track itinerary through the Oak Openings Preserve.
Mr. Linnenburger said the trail was designed with weaves and dips acceptable for the skills of youngsters and others just getting into the sport or others riding off-road for the first time but yet challenging to seasoned mountain bikers wanting to get a decent ride of more than an hour.
"This is a beautiful park that doesn't have much elevation change. But the marsh and wetlands and old growth oak savannahs really give it a scenic ride. We felt we really needed to highlight those different natural resources," he said. "We did not want it to be a trail system that is intimidating for most riders."
THE BLADE
Enlarge | Buy This Image
Mark Lemont, a volunteer who worked on the trail, said his effort was rewarding because of the riding pleasure others will get from using it.
"It's been hard work but it's been well worth the effort," he said. "It's definitely worth the effort for what is is becoming."
Mr. Lemont, like other volunteers, has taken test rides on the trail.
"For this area of the country, being relatively flat, it is as awesome as you can hope for," the Haskins area resident said.
The Metroparks costs for design and construction of the trail so far have been about $40,000. Kay-Linn Enterprises was paid $18,263. The Metroparks spent $20,500 on materials, including lumber and tools, a bike fix-it station, and signage. Cycle Werks bike shop and Toledo Area Bicyclists donated $5,130 to offset the park system expenses.
The Metroparks is ready to begin work on the single-track's second phase, which is to be built west of Waterville-Swanton Road, north of the Swanton Reservoir, on nearly 500 acres purchased by the Metroparks in 2014 and 2015.
Emily Ziegler, chief of planning and capital projects, said the seven-mile section, which is included in the Kay-Linn design, is on track to be completed in 2018, contingent on support from volunteer crews.
The Metroparks received grant money in 2016 from the NatureWorks Grant program of the Ohio Department of Natural Resources to pay for trail construction in the Fulton County section and to cover costs for trailhead development in the Lucas County portion, including amenities such as restrooms, showers, and parking.
Plans call for repurposing buildings on the site for the trailhead, including using a former equestrian riding arena as an indoor-skills development center for conducting biking classes and other cycling activities. The property is also the site of where the Metroparks is eyeing a future treehouse village.
"This is really the first milestone for the overall vision for that property," Ms. Ziegler said.
Contact Mark Reiter at: markreiter@theblade.com or 419-724-6199.
Guidelines: Please keep your comments smart and civil. Don't attack other readers personally, and keep your language decent. Comments that violate these standards, or our privacy statement or visitor's agreement, are subject to being removed and commenters are subject to being banned. To post comments, you must be a registered user on toledoblade.com. To find out more, please visit the FAQ.