Cyclists will ride slowly and somberly Wednesday through West Toledo and cities across the world to symbolically complete the rides of fallen bicyclists.
Called the Ride of Silence, it started as a tribute in 2003 to honor a single cyclist who was killed in Dallas.
Riders take part in the Ride of Silence in Toledo in 2014. This year's Ride of Silence begins Wednesday evening at 7 p.m. on the University of Toledo campus.
THE BLADE
Enlarge | Buy This Image
The annual event — always on the third Wednesday of May, which is is celebrated by cyclists as National Bike Month — spread across the United States and the globe.
Last year, nearly 20,000 riders participated in 445 silence rides in 48 counties and seven continents, including 44 states and 222 cities in the United States, according to the rideofsilence.org. Twelve rides were organized in 12 Ohio cities, the group said.
The silence ride in Toledo will begin at 7 p.m. and end on the University of Toledo campus in Lot 1 North, near Bancroft Street and North Towerview Boulevard.
For the first time, a ride also is being organized in Bowling Green. It too will begin at 7 p.m. and will begin and end in City Park.
Organizers for both events are asking participants to arrive about 30 minutes prior for instructions and remarks from speakers about bicycling victims.
Keith Webb of wearetraffic.org, a bicycling-advocacy group and silence-ride coordinator, said having silence rides in two cities will double the exposure for the annual event's message of honoring riders killed and injured in vehicle-bicycle collisions.
Blue armbands will be distributed to riders as a remembrance of cycling colleagues who have been killed or injured by motorists.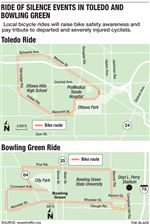 THE BLADE
Enlarge | Buy This Image
All will pedal slowly — no faster than 12 miles per hour — in single or double file along designated eight-mile routes on streets in Toledo and Bowling Green.
Local police will monitor traffic wherever the somber, funeral-like processions travel.
Unlike leisurely social trips when bicyclists ride next to each other and talk, nobody on this ride is to utter a word. Their silence will be to honor the men, women, and children who've died in bike-vehicle crashes.
Another purpose of the ride, Mr. Webb said, is to raise bicycle awareness and encourage motorists to share the road with cyclists.
"I think that for cyclists, all or most know about the Ride of Silence. But every year more and more motorists see cyclists on the road, which serves to make them more aware of cyclists and their rights to use the roadways and be safe around cyclists," he said. "It also helps bring a positive in educating motorists about cyclists' rights on the road."
Toledo's first Ride of Silence was in 2007 to honor Dr. Stephen Snedden, who was killed in 2006 after he was struck on River Road in Perrysburg Township by a drunken driver.
Mr. Webb, who had organized a silence ride in Tennessee, revived the local silence ride in 2010 after he moved to the Toledo area. The event drew about 120 cyclists, but now averages more than 200 participants.
"The ride has grown every year," he said.
The ride in Bowling Green will make a brief stop for cyclists to reflect at First United Methodist Church, the church Eric Ramlow attended.
Mr. Ramlow, 53, was killed Jan. 6, 2016, when he was struck from behind by a sport utility vehicle while riding on Sand Ridge Road between Bowling Green and Weston.
A white "ghost bike" will be placed at the church to pay homage to Mr. Ramlow.
Edward Metzger, who rode his elliptical bicycle with Mr. Ramlow the day he was killed, said he will ride in his friend's memory to make a statement to motorists that the bike rider in front of you is a human, not just a cyclist.
"A message needs to get out that people need to know that it doesn't matter how busy you are or what you got going, safety has got to come first," said Mr. Metzger, who worked with Mr. Ramlow. "Motorists just need to be more cautious and concerned when they are driving. We need to slow down and think about safety first."
Victims of other fatal crashes will be honored by riders pausing the procession to reflect at several locations, including Ottawa Hills High School, where David Larabee was a teacher, and ProMedica Toledo Hospital, which was associated with Dr. Snedden.
Among the participants in the Toledo silence ride will be Susan Santoro, who lost her husband, Thomas, on May 20 in a bike-truck accident while on vacation in Los Angeles. This will be her first silence ride.
She said she and her husband had talked about participating in the Toledo ride but were either out of town or had other things going on.
She said she knows about the powerful message the ride can convey without saying a word.
"This is not a social event. The Ride of Silence is to remember Tom and every bicyclist who have lost their lives in accidents," she said. "We need to remind people that motorists need to share the road."
Cyclists also will ride in memory of Sierah Joughin, 20, of the Metamora area who was abducted July 19 while bicycling in rural Fulton County and later murdered.
The Ride of Silence is among many events locally to celebrate Bike Month, which was established in 1956 by the League of American Bicyclists.
The Toledo Metropolitan Area Council of Governments is coordinating activities and events to encourage and promote bicycling, including Bike to Work Day on Friday and Saturday's Bike Day at the Toledo Farmers' Market.
The 2017 Bike Month T-shirts are to be given away at the outdoor market on Superior Street and people can take their bicycles to have workers from local bicycle co-op Toledo Bikes do repairs and tune-ups.
Also, the Toledo Area Regional Transit Authority will charge a reduced, 25-cent fare through May 21 for passengers who use local buses' bike racks.
Toledo Bikes, at 1114 Washington St., is hosting workshops from 2 p.m. to 3:30 p.m. on Sundays in May.
Clinics include basic bicycle maintenance and repair and instructional information about safe riding and bike handling in traffic.
More information on Bike Month is at: tmacog.org/​bikemonth.
Contact Mark Reiter at: markreiter@theblade.com or 419-724-6199.
Guidelines: Please keep your comments smart and civil. Don't attack other readers personally, and keep your language decent. Comments that violate these standards, or our privacy statement or visitor's agreement, are subject to being removed and commenters are subject to being banned. To post comments, you must be a registered user on toledoblade.com. To find out more, please visit the FAQ.