A Sylvania native and former NFL punter is turning his off-season passion into a downtown business.
Brandon Fields and his wife Katie plan to open Inside the Five Brewing Co. at the Maplewood Marketplace in the spring of 2018. The brewpub will feature beer brewed onsite by Mr. Fields and a food menu he describes as "dressed-up" comfort food.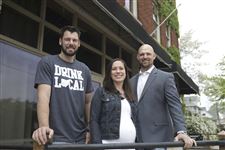 From left, Brandon Fields, Katie Fields, and Chris Morris plan to open a brewpub at 5703 Main St., Sylvania. The space had been occupied by Treo Restaurant.
The couple bought the property at 5703 Main St., at Maplewood Avenue corner, from the city of Sylvania for $1.06 million and closed on the sale Wednesday. There's work to be done to retrofit the space formerly occupied by Treo Restaurant to accommodate brewing equipment and create a more casual dining atmosphere, the new owners said.
Treo Restaurant closed in February after news of the building's sale, but Interrupt Marketing, advertising agency LJ Creates, and law offices of Melan Forcht and Bill Eickholt will remain as tenants.
"We're very excited," Mr. Fields said. "We're very optimistic about the location."
Mr. Fields caught the home-brew bug about 10 years ago after his wife gifted him a brewing kit, and he refined his brewing chops collaborating with Funky Buddha Brewery in south Florida, where the couple used to live. When Mr. Fields retired from the National Football League in 2015 after eight years with the Miami Dolphins, he wanted to make sure he continued working in an industry he enjoyed.
"He loves making beer, and he loves trying new recipes," Mrs. Fields said. "For people who don't drink beer, his goal is to make a beer that they like to enjoy."
Mr. Fields attended Sylvania Schools and graduated from St. John's Jesuit High School in 2002, while Mrs. Fields attended Perrysburg Schools before her family moved to the Sylvania community. She graduated from Notre Dame Academy in 2002, and the two married in 2008.
The couple moved back to Sylvania about a year ago to be closer to family. Mrs. Fields, a chiropractor, will plan and manage events at Inside the Five. She envisions collaborating with existing festivals and community events as well as hosting events unique to the brewpub.
"We want to be a destination. We want to get people involved," she said.
Chris Morris, a 6-year NFL lineman and Mr. Fields' teammate and roommate at Michigan State University, will join the couple as chief financial officer. Mr. Fields said highlights from the athlete's careers will be incorporated into the brewery's design — the name itself refers to when a punter pins the opposing team inside its own 5-yard line on the football field — but it will not be a sports bar.
The city of Sylvania has owned the Maplewood Markeplace since 1994 when it bought the dilapidated property from the Dave White car dealership for $200,000. The city renovated it, and found tenants, and this sale gives Sylvania a $476,500 return on its investment.
Bill Sanford, Sylvania's economic development director, said another brewpub will be welcome in the city. Inside the Five will open across the street from Upside Brewing, which is housed inside J&G Pizza Palace on Main Street.
"It's a great match for our community," Mr. Sanford said.
Contact Sarah Elms at: selms@theblade.com or 419-724-6103 or on Twitter @BySarahElms.
Guidelines: Please keep your comments smart and civil. Don't attack other readers personally, and keep your language decent. Comments that violate these standards, or our privacy statement or visitor's agreement, are subject to being removed and commenters are subject to being banned. To post comments, you must be a registered user on toledoblade.com. To find out more, please visit the FAQ.